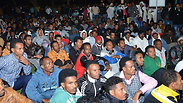 Asylum seekers at protest, declare strike
Photo: Meir Ohayon
Israel's African asylum seeker community will hold its first labor strike ever Sunday, in protest of the government's policy.
Refugees from Sudan and Eritrea will hold a nationwide general strike Sunday. The total number of refugee seekers in Israel stands at 53,000 and many are employed illegally in a wide array of low paying manual jobs – from dishwashing to construction.
Thousands of asylum seekers held a demonstration in south Tel Aviv's Levinsky Park Saturday night and called for the strike, and starting from Sunday, the asylum seekers will not go to work. The strike will probably continue throughout the week.
Related stories:
On Sunday morning a protest will be held in Rabin Square in Tel Aviv and on Monday, community activists intend to contact the United Nation High Commission for Refugees and foreign embassies in Israel, asking them to demand the Israeli government take responsibility over the asylum seekers.
"It is possible that the strike will go on longer (than a day). The point is to show the public what an injustice the Israeli government has been causing us recently," Davit Damuz, a refugee seeker said.
"Since the new (Infiltration Prevention Act) people are desperate and scared. The Interior Ministry refuses to renew visas and people are jailed for long periods because they don't have visas. Others are ordered to arrive at the Holot facility which is a jail for all purpose."
Last September the High Court ruled that the Infiltration Prevention Act – which allows the government to jail asylum seekers suspected of a crime for up to three years without trial – was unconstitutional.
In response, the government amended the bill, lowering the jail time to up to a year and paving the way for the Holot facility – an 'open' detention facility located in the Negev where refugees must check in at least twice a day.
Failing to check in for more than two days in row is deemed a criminal offence which then allows the State to jail the refugees in the original Saharonim Prison.
In the weeks since the amendment's passing, the Population Administration has increased its enforcement activities against the asylum seeker community – with over 150 refugees being arrested in the last week alone on visa violation offences. Those arrested will spend 90 days in the Saharonim Prison and will then be transferred to the Holot facility.
In the meantime, human rights group claim that the State has drastically cut down office intake hours, thus making it more difficult for visa renewal requests to be filed.