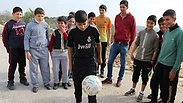 The group of children
Photo: Ma'an
A group of Palestinian children has sent a simple letter to UN Secretary General Ban-Ki moon, asking for a ball that had been kicked over their side of the West Bank security fence be returned to them, Palestinian news agency Ma'an reported Sunday.
Several days ago, a Palestinian boy named Amir, was playing soccer with his friends in Kafr Sur, near Tulkarem, when one of his free kicks went astray and caused the ball to land in Israeli territory.
The children said the Israelis were infringing on their rights by not giving them their ball back, or letting them retrieve it by themselves.
Related stories:
The youths also wrote to UN chief Ban Ki-moon that they have the legal right to play on their territory without restrictions. They said they feared they would never get the ball back.
The Palestinian regional leader said the Israelis are saying the wall is necessary for security reasons, but the reality is Israel is trying to confiscate lands in order to expand the areas available to Jewish settlements.
Receive Ynetnews updates directly to your desktop