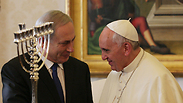 The Pope and Benjamin Netanyahu at the Vatican
Photo: MCT
Pope Francis announced on Sunday that he will visit Holy Land sites in Jordan, Israel and the Palestinian Territories in May, his first trip to the area as pontiff.

The May 24-26 trip to Amman, Jerusalem and Bethlehem will mark the 50th anniversary of a landmark trip there by Pope Paul VI in 1964, the first by a pope in modern times. Pope John Paul II visited in 2000 and Benedict XVI went in 2009.

Francis, who has made many appeals for peace in the Middle East since his election in March, announced the trip to thousands of people in St. Peter's Square for his Sunday address. He was invited by both President Shimon Peres and Palestinian President Mahmoud Abbas.

Related stories:

The visit to Jerusalem will include the Church of the Holy Sepulcher, where Jesus is said to have been buried, and is the site of pilgrimage for thousands of Christians each year.

Israeli and Palestinian negotiators resumed direct peace negotiations in late July after three years of stalemate. The Vatican has urged both sides to make "courageous and determined" decisions to move closer to peace, with the help of the international community.

Prime Minister Benjamin Netanyahu and his wife Sarah met with Pope Francis in the Vatican in December, for a 25-minute private audience. The couple gave the Pope a book about the Inquisition in Spain that was written by the prime minister's late father, noted historian Benzion Netanyahu, who died in 2012.