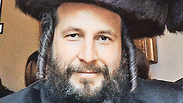 Menachem Stark
Photo from New York Post
A New York City businessman who was abducted as he left his office during Thursday's snowstorm has been found dead on Long Island.
Nassau County Police say Menachem Stark's body was found Friday evening in a trash bin at a gas station in Great Neck.
Police say the 39-year-old was grabbed by two people as he left his realty office in Brooklyn at about 11:30 pm Thursday.
Related stories:
A security camera recorded the struggle. The video showed the kidnappers wrestling Stark into a Dodge Caravan and driving away. Police say he may have been carrying a large amount of cash.
New York City police began investigating when Stark's family still hadn't heard from him at 2:30 am Friday.
Police have released video of the abduction and images of the getaway vehicle.