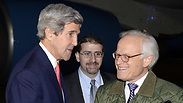 Kerry with Martin Indyk in Israel
Photo: Matty Stern/US Embassy Tel Aviv
Saudi King Abdullah offered his "enthusiastic support" to US efforts to resolve the Israeli-Palestinian conflict, US Secretary of State John Kerry said on Sunday.

The US diplomat made the comment after some two hours and 40 minutes of talks with the Arab monarch, who in 2002 floated a plan to try to bring peace to the Israelis and Palestinians.

During that meeting, as well as one with the king of Jordan earlier in the day in Amman, Kerry briefed the Arab leader on his three days of talks with Israeli and Palestinian leaders.

"I want to thank his majesty for ... his enthusiastic support for the efforts that are being made with respect to the peace process," he told reporters after seeing Abdullah at a desert palace outside Riyadh under a winter rainfall.

Related stories:

"Today, his majesty was not just encouraging but supported our efforts in hopes that we can be successful in the days ahead," Kerry added, saying the Saudi ruler believed a peace deal could bring "great benefits" throughout the Middle East.

On his 10th peace-making trip to the region during the last year, Kerry had tried to establish what U.S. officials call a "framework" for guidelines for any eventual peace accord.

The U.S.-brokered Israeli-Palestinian talks resumed in July after a three-year halt, with Kerry pushing for an accord within nine months despite skepticism on both sides.

Kerry has previously asked Israel to reconsider the 2002 Arab peace plan, originally proposed by King Abdullah, which offers Israel full recognition in return for giving up land it captured in 1967 and a "just" solution for Palestinian refugees.

Saudi Foreign Minister Prince Saud al-Faisal also emerged from the desert talks upbeat, calling the rainfall a "great" omen and describing the meeting as "excellent."

"There is really no meeting that could have been smoother and more productive than this meeting," Saud al-Faisal told reporters while seated beside Kerry in an airport reception room.

"It's a meeting that ... belies any bad vibes about relations that were expressed in many of the media lately," he added, referring to widespread reports of U.S.-Saudi strains over U.S. policy toward Iran, Syria and Egypt.

The foreign minister did not specifically echo Kerry's comments about Saudi support for the Israeli-Palestinian peace process but he said an agreement that meets the Palestinians' aspirations "will receive the full support of Saudi Arabia".
Puzzle pieces
Broad Arab support is viewed as crucial if the Palestinians are to make the compromises likely to prove necessary to strike a deal with Israel. Both parties to the conflict, however, have voiced doubts about the peace process in recent days.

Palestinians see a major obstacle in Israel's settlements. Many Israelis question the credibility of Palestinian President Mahmoud Abbas , especially as Gaza is run by his rivals - Hamas who oppose peacemaking.

Speaking earlier to reporters in Jerusalem, Kerry suggested that the Israelis and Palestinians were making some progress in peace talks, though there was still a chance no accord would be reached.

At a morning news conference, Kerry said both sides had a sharper idea of the compromises needed to secure an agreement despite their deep skepticism on the chances of success.

"This has been a productive couple of days," Kerry told reporters after three days of separate talks with Israeli Prime Minister Benjamin Netanyahu and with Abbas. "We have had very positive - but I have to say very serious, very intensive - conversations."

Kerry said all of the major issues in the conflict - borders, security, the fate of Palestinian refugees and the status of Jerusalem - were under discussion.

"The path is becoming clearer. The puzzle is becoming more defined. And it is becoming much more apparent to everybody what the remaining tough choices are," he said. "But I cannot tell you when, particularly, the last pieces may decide to fall into place or may fall on the floor and leave the puzzle unfinished."