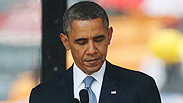 Is Obama's country the most dangerous to peace?
Photo: AP
WASHINGTON – The US is the greatest threat to world peace, according to a global poll from WIN and Gallup International conducted in 65 countries and released Monday.
According to the survey, 24% of respondents see the US as the greatest threat, and in a considerable distance behind it, 8% believe Pakistan is the great threat to world peace.
About 6% believe that China is the biggest menace to world peace, and Israel ranks in the respectable fourth place, together with Iran, North Korea and Afghanistan, with each country receiving having 5% of the respondents believe they are the biggest danger to peace in the world.
Related stories:
Further down the list, with 4%, are India, Iraq and Japan. Only 3% of the respondents believe Syria is dangerous to the world, and only 2% are fearful of Russia. The Palestinians have 1% of the respondents believe they are the greatest danger to world peace, alongside Britain, Germany, Australia, South Korea, Somalia and Saudi Arabia.
Some 38% of the respondents determined they are happy in their country, while others indicated they want to leave to another country. According to the study, the American dream is still alive and kicking: 9% of respondents said they would want to move to the US, while 7% would want to move to Canada and Australia. Switzerland is sought after by 6% of the respondents, 4% would wish to move to France, 3% to Germany and Britain, as well as Italy and Saudi Arabia.
Despite the global economic crisis, some 50% of the respondents were more optimistic about 2014 than about 2013. This is the first time since the fall of the Berlin Wall that people thought a better year was ahead.
More than one third of the 65-nation respondents believe that the world could be a better place if more women were to join politics. Some 34% support the further integration of women in politics, while 41% are certain that the matter is irrelevant. About 17% responded that the world would be worse with more women in politics, and 8% said they don't know.
The international survey is conducted annually for 37 years, at the end of every year.