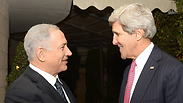 Netanyahu and Kerry
Photo: Amos Ben Gershom, GPO
A senior Jordanian politician said Monday that Prime Minister Benjamin Netanyahu has expressed willingness to a land transfer with the Palestinians, a plan touted Sunday by his foreign minister, Avigdor Lieberman.

The Jordanian official said Netanyahu was ready to give up 52 square kilometers of land inhabited by 300,000 Arabs in the Wadi Ara area, a piece of land northwest of the Green Line located in the southern part of the Haifa District. The territory would form the northern border of the future Palestinian state in the West Bank.

The statement came as a result of US Secretary of State John Kerry's desire to announce that there was progress on both sides in the negotiations. The Jordanian official said that otherwise there would not be an additional round of talks.

Related stories:

The politician also said Palestinian President Mahmoud Abbas had agreed to Kerry's offer to have an American-Israeli force with Palestinian observers along the Jordan Valley for three years.

Kerry, however, is pressuring Abbas to remove his timeframe demand on the condition. Palestinian sources denied that Abbas agreed to an Israeli military presence, and they said the Palestinian Authority is insisting that there will be no form of military presence in the Jordan Valley.

Foreign Minister Avigdor Lieberman said on Sunday that any future agreement must transfer the residents of Wadi Ara to an area with full Palestinian sovereignty.

Prior to Monday's announcement, London-based Arabic-language newspaper Al-Quds Al-Arabi reported that Kerry told King Abdullah of Jordan that he would not agree to Netanyahu's request to extend the negotiations without a positive announcement. A senior Jordanian representative said to the paper that Netanyahu was trying to buy time so he could finish his plan to build 50,000 housing units by the end of 2014 that were approved by the government.

The diplomatic representative also said that Jordan told Kerry that there was a need for an American guarantee of Jordan's strategic interests if the Palestinians and Israelis were to reach a permanent agreement. The representative said the current framework ignored Jordan, specifically in regards to the drawing of the borders and the return of Palestinian refugees.

The report said the Jordanians were worried that any deal would come at the expense of Palestinian refugees in Jordan, the borders and the issue of Jerusalem, which is under King Abdullah's auspices.