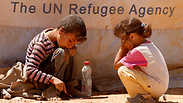 Syrian children at a refugee camp in Jordan
Photo: EPA
In a few short weeks, when thousands of Syrian refugees receive cartons packed with warm blankets, clothes and sleeping bags, they might well be surprised to learn that the winter gear was collected by dozens of Israeli students and IDF employees at an army base in northern Israel.

Like neighboring northern Israel, Syria can experience bitterly cold winters, with temperatures falling to as low as -3 degrees Celsius. For refugees who are living in makeshift accomodations or even sleeping in the rough, keeping warm can be a challenge.

Shimshon Camp, one of the IDF's largest Ordnance Corps bases, is also the home of the Aman-Shimshon school, attended by 125 students from grades nine to 12, and the drive is their initiative. "Our students include Druze, Bedouin, both Christian and Muslim Arabs, Circassians and Jews," says school principal Nitzan Amit proudly.

Related stories:

Two weeks ago, one of the school's teachers, Hana Perlmutter, came across an interesting project.

"I discovered project Human Warmth, which collects warm gear for Syrian refugees," she says. "As a daughter of Holocaust survivors I knew we had to help out."

Perlmutter contacted Nur Suwad, the deputy head of the student council, and he immediately got involved. "I put the project at the top of my agenda," he says. "We all pitched in."

The students began to fill up a large space near the principal's office with donations, and have collected 100 kg worth of gear. And this weekend they are planning to use a truck to transfer the equipment to the Syrian refugees across the border. Amit even intends to ask the hundreds of soldiers at the IDF base to donate unused equipment.

"They asked us to remove all Hebrew lettering," says organizer Etti Cohen. "So we're going to write greetings in Arabic and put them in the pockets of the clothing, so that the Syrian refugees get a little bit of support."