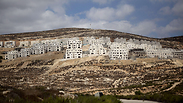 Settlement near Jerusalem
Photo: AFP
An Israeli official confirms that Israel has promoted plans for 272 new apartments in two isolated West Bank settlements.

The final step in the approval process came as US Secretary of State John Kerry wrapped up another Middle East trip as part of his attempt to forge a peace deal.

The anti-settlement group Peace Now said Monday that Israeli authorities published the building plans for the settlements of Ofra and Karnei Shomron a day earlier. Peace Now says construction could begin in coming weeks.

Related stories:

Major Guy Inbar, an Israeli defense official, confirmed the plans were published. He says the initial approval was given in October.

US brokered peace talks have put the government coalition in a bind. While centrist Yesh Atid, led by Finance Minister Yair Lapid support a peace talks and a two-state solution, Habayit Hayehudi, led by Economy Minister Naftali Bennett, opposes the two-state arrangement and has been vocally critical of peace talks.

Israel's move to release the 104 Palestinian prisoners jailed from before the 1993 Oslo Accords as a goodwill gesture to the Palestinians came in response to right-wing reluctance to accept a freeze in settlement construction.

Thus, in a bid to perserve the coalition, following every round of prisoner releases, Netanyahu's office is quick to publish new tenders for construction of thousands of new housing units beyond Jerusalem's 1967 borders.

Earlier Monday, Lapid made this tension clear by saying: "As someone who knows the progress in the diplomatic process – it's real," Lapid told his party's lawmakers. "There is a real opportunity (to make peace) here, closer than it appears, to reach an agreement. We cannot miss it."

Lapid's words came in direct contrast to other members of Prime Minister Benjamin Netanyahu's coalition, including members of his own Likud party as well as MKs from the pro-settlement Habayit Hayehudi, who repeatedly state that the US-supervised talks are without purpose.

The finance minister also expressed his support for Netanyahu in the peace talks, calling on him "to make every effort to take advantage of this opportunity Yesh Atid will stand behind any courageous decisions made to reach an agreement to disengage from the Palestinians.