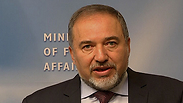 FM Avigdor Lieberman
Photo: Eli Mandelbaum
While Foreign Minister Avigdor Lieberman was surprisingly bonding with the prospect of a peace deal with the Palestinians, his support for a land swap wasn't met with the same enthusiasm by those who would likely be part of the transfer.

Lieberman said he supported the option of a land and population exchange with the Palestinians, clarifying that he envisioned the transfer of the predominantly Arab "Triangle" of communities and Wadi Ara, a main artery between central and northern Israel bordering the West Bank, in return for Jewish settlements in the West Bank.

"They define themselves as Palestinians," he said, "so why wouldn't they join their Palestinian brothers?"

Related stories:

But those living in the predominantly Arab region of Israel have a very different opinion.

Revia Mahajna, an attorney from the village Musmus in the Wadi Ara region, said he sees no problem in calling himself a Palestinian and wanting to stay in the State of Israel.

"From an historical perspective, I'm living on Palestinian land that was passed down from father to son way before the State of Israel was established, and on the other hand I have an Israeli identification card," he said. "I'm a Palestinian living in the State of Israel just like there are Palestinians living in Canada or Germany."

Adal Mahajna, an insurance agent, also from Musmus, said even if Israeli Arabs call themselves Palestinians, the majority still prefers to stay in Israel.

"Our life is in Israel, and a transfer like this will cut us off from our family and our friends, Arabs and Jews," he said. "It really doesn't have a chance – this is just Lieberman's trial balloon, it's not the solution to the Israeli-Palestinian conflict."

Lawyer Alaa Atmanah from Kafr Kara said the foreign minister's plan is offensive and not feasible.

"It's a racist proposal," he said. "Most of the population won't agree to give up their Israeli citizenship."

Atmanah said that if the transfer would be approved most of the residents of the area would be forced to move to cities such as Hadera, Afula or Pardes Hanna.

"I don't know what's behind the proposal, or what Israel's interests are in the plan, but it won't bring any benefit – only internal and external harm," he said.

Lawyer Jabar Jabrin from Umm al-Fahm said there are grave dangers buried within Lieberman's arrangement.

"It will cause a third nakba, and we'll be forced to fight the proposal in every way that we can," he said. "My brother lives in Nazareth, and we'll end up being separated."

Jabrin said he supports the idea of national service, and he himself was a traffic cop while he was a student and his father was a chief superintendent in the police.

"I expect to receive the right to be equal in all that is related to privileges and responsibilities."