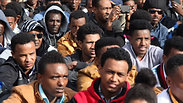 Asylum seekers in Levinsky Park in Tel Aviv
Photo: Motti Kimchi
Thousands of African asylum seekers gathered in Levinsky Park in south Tel Aviv on Tuesday, for the third consecutive day of protests over Israeli government policy of expulsion. In a direct appeal to the Israeli people at a press conference, a representative of the African community called for a change in that policy, insisting that they are "not the enemy."
"The new policy of the Israeli government, arresting people, putting people in prison indefinitely has forced us to take drastic measures," he said. "This was a very different decision to take. Our jobs are hard, our pay is very low. Many people in this community (are) very poor."
He stressed that the migrants posed no threat to the Israeli people.
"The Israeli government is lying to the Israeli people, saying we are not refugees, that we are infiltrators and in search of work. The government wants the Israelis to be afraid of us, to stay away from us and not to see us as human beings.
The Israeli government wants the public to fear us," he continued. "If you are afraid of someone, you want to tell them to get away... We want to say to the Israeli people, don't be afraid (of) us, we are not coming here to harm you... We are not your enemy. We only ask that you give us we shelter."
The protesters repeated Monday's call for intervention from the international community, in particular the United States, in Israel's expulsion policy.
The representative slammed Prime Minister Benjamin Netanyahu and Interior Minister Gideon Sa'ar, saying that "Minister Sa'ar insists the requests are being reviewed, but that's a lie. No African refugee was granted a refugee status nor was any request reviewed. Bibi Netanyahu continues to say we are infiltrators and criminals… without him checking anything and he wants the entire nation to look at us that way."
In addition, some 150 asylum seekers jailed in Saharonim prison in the Negev, are continuing with a hunger strike begun Monday, which they say they will maintain until their asylum requests are examined.
"We will continue with this struggle," said 27-year-old Eritrean asylum seeker Mongita, who has been in Israel for six years. "We are fighting for our lives. We won't stop until our requests have been met for a review of our asylum applications and a change in policy that would treat us like human beings."
On Monday, some 2,000 people marched to the American embassy in Tel Aviv, where they handed Ambassador Dan Shapiro a letter outlining their requests, and asking Shapiro to help influence Israeli decision-makers.
The protesters were deciding on their next step in the series of demonstrations, with a march Jerusalem being considered.
The asylum seekers demanded that a representative of the government talk with them. "We want a dialogue with the Israeli government, now that our community has a voice. We call on the Israeli government to sit with us and discuss possible solutions. If we are part of the problem we should be a part of the solution."
"We are determined to continue to fight this battle," said Mongita, 27, Eritrean asylum seeker. "We are fighting for our lives. We will not stop until our demand to review asylum requests is met and the policy is changed in such a way that we are treated like human beings."
Meanwhile, Prime Minister Netanyahu has remained adamant that the migrants who entered the country illegally would be made to leave.
"Demonstrations and strikes won't help, Netanyahu wrote on his Facebook page on Sunday. "We have completely halted the infiltration to Israel, and now we are aiming to remove the illegal workers who have entered Israel. Last year, we had a six-fold rise to more than 2,600 in the number of infiltrators who left, and the target for this year is to increase this number too."