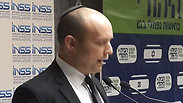 Bennet during speech at INSS
Economy Minister Naftali Bennett addressed US efforts in negotiations between Israel and the Palestinians during a speech at the Institute for National Security Studies (INSS) saying: "Will those who pressure us today die for us tomorrow?"
Bennett added that Habayit Hayehudi will not be part of a government that negotiates the 1967 lines: "No more word games: the 1967 lines mean dividing Jerusalem and giving up the Western Wall, the Temple Mount and the Old City. In what way will our history remember a leader that agrees to give up Jerusalem? We won't sit in such a government."
Related stories:
"We will represent the people. We will not evade our responsibilities and tough decisions."
The minister added: "These days will determine the fate of the State of Israel. Though the Syrians are not closing in on us, nor are IDF Armored Corps honing in on the Egyptian border, we are fighting a battle… that will determine who we are and where we're going.
"People used to tell us that we need to cede lands for peace." According to him, "there was a true belief that if we just gave enough away," Israel will enjoy peace.
Nowadays, however, Bennett insisted, "Israelis are disillusioned. They understand that the way to ensure that a Jewish State exists in this country is through a strong army."
According to Bennett, the world has contempt for a country that is incapable of defending its citizens. The world respects a country that stands up for its rights. "If we talk clearly, we will be listened to, and if our allies urge us to commit suicide, even if it's well intended, we will say no."
Attila Somfalvi contributed to this report