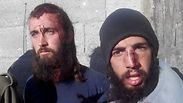 Settlers injured in Qusra
Photo:Zacharia Sadah, Rabbis for Human Rights
Eleven settlers who entered the West Bank village of Qusra, south of Nablus, said they were attacked by a group of Palestinians on Tuesday. Several of the settlers said they sustained bruises as a result of the attacks.
According to the settlers, the attack was the result of clashes that took place earlier between settlers and Palestinians over security forces' evacuation of an illegal structure near the Esh Kodesh outpost.
Related stories:
Palestinian residents of the village however said the settlers entered their village, and attacked a young boy, who sustained head injuries as a result. Once the boy was attacked, the Palestinians said, several Qusra residents rushed to his defense and stopped the settlers.
Settlers who enter Palestinian village to execute 'price tag' surrounded by villagers (Video: Reuters) (צילום: רויטרס)
The settlers then fled the scene and entered a Palestinian house under construction. According to Palestinian activists for human rights, locals surrounded the house and were intending to attack the settlers.
The Palestinian activists then created a buffer between the villagers and the house in which the settlers were barricaded. According to the activists, they stopped locals from entering the house and avenging the boy's attack.
Zacharia Sadah, with Rabbis for Human Rights, was on the scene, and told Ynet that for several minutes he and his colleagues tried to stop settlers and Palestinians from hurting each other. He said that security forces went into the house to take the settlers out and evacuate them out of the village.
Following the incident, the IDF stated on Tuesday morning, "the tenants of an illegal structure in Esh Kodesh were evicted. Following the eviction, violent clashes emerged between dozens of settlers and Palestinians, including stone hurling. At the same time, several settlers approached the nearby village of Jalud, where another clash ensued. According to a preliminary report, several settlers were rescued by IDF troops after staying in a building in the village. Several of the settlers were evacuated with light to moderate injuries."
Elior Levy contributed to this report.