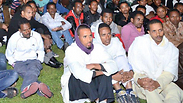 Asylum seekers protest in Eilat, Tuesday
Photo: Meir Ohayon
African migrants: We will pursue this strike until we all end up in jail
Asylum seekers in favor of pursuing three-day-old labor strike, demand Israel's review of asylum requests. Data show 49,000 Sudanese, Eritrean citizens live in Israel, only 1,600 asylum requests examined, some 200 requests rejected. Administration of Population and Immigration insists 'all requests are examined'
Some 1,400 asylum seekers gathered in an Eilat park Tuesday evening to protest the government's policy regarding their asylum and employment status, and to vote on whether to continue their three-day-old strike.
Israel's African asylum seeker community declared a labor strike on Sunday, in protest of the government's policy.
Everyone voted in favor of pursuing the strike, amid rumors that hotels and restaurants in Israel's southernmost city will fire African employees who continue with the strike.
Related stories:
"We will pursue this strike until we all end up in jail," said Abu Elgasim Ismail Jibril Tuesday.
Jibril is not concerned with losing his livelihood as a result of the strike. "We didn't come to Israel for money or work, but we had to work so we could eat… 12 years I've been out of Sudan. I have a family there and parents. What do they think in Israel? That I'm wandering around the world looking for work? That doesn't make any sense."
Administration of Population and Immigration report
Asylum seekers demand that the State of Israel review their asylum requests. According to reports, since July 2009, when the UN handed over to Israel the duty of reviewing the requests, and until 2013, Israel has hardly reviewed any asylum requests by Sudanese and Eritrean.

According to data retrieved from the Administration of Population and Immigration, some 53,000 African asylum seekers have infiltrated into Israeli territory via Egypt since 2006. Most of them, some 49,000 people, are citizens of Sudan and Eritrea, whom Israel cannot deport due to international treaties.

As a signatory to the 1951 Refugee Convention, Israel is obligated to protect the rights of people that are unable to return to their home countries due to fear of persecution.

According to Interior Minister Gideon Sa'ar, some 1,600 asylum requests were filed, of which 200 were denied and the rest remained unanswered.

"There is not one case of an Eritrean or a Sudanese who have received refugee status in Israel," said Elizabeth Tsurkov, a project director at the Hotline for Migrant Workers, an advocacy group. Citing official government statistics, she said Israel has approved less than 1% of refugee requests from all countries over the past four years.

In contrast, more than 80% of Eritrean refugee claims and nearly 70% of Sudanese claims in 2012 were recognized worldwide, including in Western countries like the United States, Norway and Italy, according to the UN refugee agency.

The Administration of Population and Immigration said: "In contrast to claims, all asylum requests are undergoing review by the administration. The reviewing process is a thorough one which looks into the issue of persecution based on the treaty.

"Requests that are based on any of the treaty's clauses are transferred to an advisory committee on the issue of refugees, headed by a representative of the justice system… and in accordance with procedures regarding seekers of political asylum in Israel.

"We would like to stress that any foreigner who has filed an asylum request cannot be deported until the request is reviewed."

The administration added that Interior Minister Gideon Sa'ar issued instructions according to which the asylum requests by infiltrators who are detained in the Saharonim and Holot facilities be given top priority.

Israel's Foreign Ministry said that the Interior Ministry is examining hundreds of asylum requests in coordination with the UN High Commissioner for Refugees and that all applications are given "thorough treatment" and all international legal obligations are honored.

"Israel tries to balance the need to control its borders with the need to protect the human rights of those who enter," it said.

Foreign Ministry spokesman Yigal Palmor said the fact that people who come from a country with a miserable human rights record does not automatically make them a refugee. He said applicants must prove that they face the risk of personal harm or persecution if they return home.

Meir Ohayon, AP, contributed to this report.