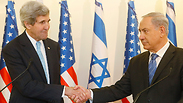 John Kerry and Benjamin Netanyahu
Photo: Flash 90
Saudi Foreign Minister Prince Saud al-Faisal has warned that Israel's policies on the settlements and Jerusalem could lead to a breakdown in the ongoing peace talks with the Palestinians, saying that the success of the negotiations "depends on Israel's agreement to the principles of peace."
"The continuation of Israel's unilateral policies and the continuing provocation in Jerusalem and the settlements could collapse the talks and raise doubts about the possibility of completing them within the nine-month period," the state-run Saudi Press Agency quoted Faisal as saying Tuesday.
A peace treaty would deal with all the divisive core issues, including the contours of a future Palestinian state, refugees, the fate of Jerusalem claimed by both as a capital, security and mutual recognition.
Riyadh has publicly stressed its support for the US-led peace efforts, and US Secretary of State John Kerry headed to the kingdom earlier this week to update the Saudi king on his latest round of shuttle diplomacy between Israel and the Palestinians. He said after their meeting that he had won Saudi support for his efforts.
Kerry left Israel on Sunday, after his tenth visit to the region as secretary of state, and headed to the Jordanian capital, where he spent an hour with senior officials. He then travelled to Saudi Arabia for almost three hours of talks with King Abdullah in his secluded desert residence. Kerry emerged from the talks saying they had been "very productive."
"Today, His Majesty was not just encouraging, but supported our efforts and hopes that we can be successful in the days ahead and believes that this is important for the region and that there are great benefits that will come to everybody if we're able to be successful," Kerry said.
Saudi Arabia's King Abdullah was the author of a 2002 Arab League peace initiative, which Kerry praised again Sunday as holding out the prospect for "instantaneously" reaching peace between Israel and 22 Arab nations and 35 Muslim nations who have pledged to recognize Israel if there is a deal with the Palestinians.
Saudi Arabia has, however, been notably frustrated by America's perceived lack of action to halt the war in Syria, and the conflict was also addressed in Sunday's talks.
Faisal dismissed the notion the two countries were at odds, saying their meeting "belies any bad vibes about relations that were express in many of the media lately."