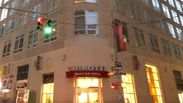 Fulton Street building
Photo: Courtesy of Alto
An American-Israeli real estate company with offices in New York and Tel Aviv has made a killing in its recent sale in the heart of the Manhattan financial district.
The Alto Real Estate Fund has sold its shares in a retail condo in the center of Fulton Street for $34.5 million, after purchasing the property with the Klein Group at the start of 2012 for $20 million.
The property, a 21,000 square foot retail condo, lies on the ground floor of an exclusive apartment building just a few hundred meters from the new World Trade Center, and a block away from a major public transport hub.
Real Estate
Real estate entrepreneur Michael Shvo purchases ground on 10th Avenue for $23.5 million – most expensive price ever paid for land for construction in Manhattan
At the time of purchase, Fulton Street was nearing the end of a comprehensive infrastructure renovation, made necessary because of its proximity to the site of the World Trade Center destroyed in 2001. The area has been under renovation since 2004, in a project costing $1.5 billion, in order to improve accessibility for the 500,000 passengers travelling to the area every day.
This is Alto's sixth exit, with an average of 36% net internal rate of return for its investors.
To date, Alto has invested in 14 commercial properties with total size of 1.8 million square feet, worth $285 million.
Alto is in the process of raising money for a second fund of $100 million, which will continue to focus on investment with a value-added approach for income-producing commercial real estate in the US.
"The new investment fund serves private investors who would like to invest like the large institutions and to include real estate in their portfolios," says Alto co-founder and CEO Yaniv Melamud.
"The extended recession in the US enables us to continue to acquire good properties, mainly in second-tier cities, where prices are continued to be attractive in light of their late emergence from the lengthy recession that still prevails in the US."