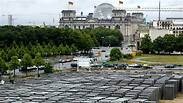 Drunken partygoers seen launching fireworks from among 2,711 concrete blocks (archives)
Photo: AP
VIDEO – Berlin police say they are considering additional security for Germany's main Holocaust memorial after an online video appeared to show New Year's revelers urinating on the site last week.

The YouTube video appears to show drunken partygoers relieving themselves and launching fireworks from among the 2,711 concrete blocks commemorating the six million Jews killed by the Nazis.

Video courtesy of jn1.tv

The site in the heart of Berlin is close to the Brandenburg Gate where hundreds of thousands of people traditionally ring in the New Year.

Police spokesman Thomas Neuendorf said Monday that the site was specifically designed to be open to the public, but that a fence could be erected around it during big events.

Jenifer Stolz, a spokeswoman for the foundation that maintains the memorial, says a temporary barrier would be acceptable.