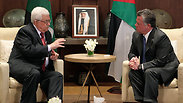 PA President Abbas with Jordanian King Abdullah II
Photo: Reuters
Palestinian president Mahmoud Abbas briefed Jordanian King Abdullah II Wednesday on Middle East peace negotiations, after US Secretary of State John Kerry failed to find a framework deal for final talks.
"The meeting with his majesty focused on exchanging views about unifying the Jordanian-Palestinian position on... Kerry's initiative," the palace quoted Abbas as saying after a meeting with the king, whose country has a peace treaty with Israel.
Related stories:
"Kerry is still providing ideas, which we are discussing. He will come again soon. We continue to meet with his aides until ideas mature and before he comes up with a framework for the agreement," Abbas added, without elaborating.
Jordanian Foreign Minister Nasser Judeh said progress has been made in negotiations between Israel and the Palestinian Authority, as reported by the chairman of the Jordanian Parliament's Foreign Affairs Committee Hazem Kashua.
Kashua said that Judeh told the members of the committee that the progress stems from the fact that both sides see all issues as open for discussion
Kerry left the region on Monday following four days of intense meetings with Israeli and Palestinian leaders, during which he failed to broker agreement on a framework to guide the talks forward.
Israeli media say Kerry, who kicked-started nine months of direct peace negotiations in July after a three-year hiatus, is due back in the region next week.