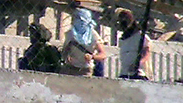 Masked settlers as shown in video
Photo: B'Tselem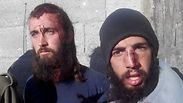 Settlers injured in Qusra
Photo:Zacharia Sadah, Rabbis for Human Rights
A video released on Wednesday by the B'Tselem rights group showed settlers hurling stones at the house of a Palestinian family and a school.
The footage reveals a group of masked settlers who left the settlement of Yitzhar in the direction of the Nablus-adjacent village of Ourif, where they started throwing stones on the house and school.
Related stories:
The video shows soldiers walking alongside the stone-throwers without stopping them from the attacks.
B'Tselem: Settlers hurling stones while soldiers stand by (Video: B'Tselem) (צילום: בצלם)
The B'Tselem group reported that several students from the school on which the stones were thrown threw stones back at the settlers, prompting the soldiers to throw smoke grenades at the students.
"The footage shows that the military, which is supposed to protect Palestinians in the West Bank, was essentially used as a security buffer for violent settlers," a B'Tselem statement noted, adding that "the soldiers did not stop the violent acts and only responded when the Palestinians hurled stones back at the settlers.
" It didn't seem as though the soldiers attempted to identify the masked men or detain them until police arrive so they can face the full extent of the law."
Military sources said that the incident was under investigation, and that the right-wing activists were throwing the stones in the direction of an unpopulated area.
Yoav Zitun contributed to this report.