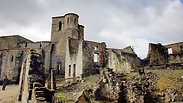 Oradour-sur-Glane, France
Photo: AP
German prosecutors have charged an 88-year-old former member of Hitler's elite Waffen SS with taking part in a World War Two massacre of hundreds of French villagers, nearly 70 years after one of the most infamous Nazi atrocities.

In the methodical June 1944 slaughter, SS soldiers took the small village of Oradour-sur-Glane in central France by surprise and killed nearly all its inhabitants within a few hours. They killed 642 men, women and children.

The men were herded into barns and shot dead while the women and children were burned alive in the village church.

Related stories:

"The prosecution charges an 88-year-old pensioner from Cologne with (joining in) the destruction of Oradour-sur-Glane in France," said Achim Hengstenberg, court spokesman in the western German city.




The suspect was part of the 3rd Company of the 1st Battalion of the "Der Fuehrer" regiment of the fanatical SS's "Das Reich" division.

"He and another shooter are said to have killed 25 men in a barn with his machine-gun. He is also said to have aided the burning down of the village church."

The accused denies the charges, saying he did not fire a single shot in Oradour, according to his lawyer Rainer Pohlen. He even said he tried to save the lives of some.

"He could have fired. He says, however, 'I had the great luck of being deployed for something else'," Pohlen said.

"He said 'I heard shots, I saw people shouting, I saw the village burning. It was terrible. It was absolutely awful. But I was not myself involved in any of the action'," the lawyer added, quoting his client.

Hengstenberg said the charge lay with the young offenders chamber of the Cologne court because the suspect was only 19 years old at the time of the crime. He was not named in the statement. The young offenders chamber will decide whether or not to open proceedings against the aged accused.
Struggle for reconciliation
The SS unit decided to wipe Oradour-sur-Glane off the map as an example to French Resistance guerrillas after a vehicle carrying an SS doctor was ambushed on a road leading to the village and its occupants abducted.

Among those killed were 207 children, the youngest eight weeks old. Only five men and a woman survived the massacre.

"It's important that we find someone even if it's 70 years afterwards," Robert Hebras, one of the six survivors, told French broadcaster BFM TV.

Oradour-sur-Glane today remains a phantom village, with burned-out cars and abandoned buildings left as testimony to its history.

In September, German President Joachim Gauck and France's Francois Hollande met in the ghost town in a visit aimed at underscoring French-German postwar reconciliation.

Gauck told a crowd there at the time that he shared their "bitterness over the fact that the murderers have not been brought to justice."

The former town is an ambiguous symbol because it represents not just the atrocities committed by the Nazis but also a post-war failure to punish the perpetrators.

Heinz Lammerding, the Waffen SS general in command of the unit that committed the massacre, was captured by Allied forces but never extradited to France and was sentenced to death in absentia by a Bordeaux military court in 1951. He died in his bed in Bavaria in 1971.

Hengstenberg said the new charge resulted from a fresh look at a previous investigation into the events.

In 1953, 12 Alsatian soldiers who took part in the massacre while serving in the German army were sentenced to life in prison and one to death, but France's parliament immediately pardoned them in the name of "national reconciliation".

Their province of Alsace had been annexed by Germany in 1940 and Alsatians were deemed to have been forced to join the Nazi army, even though some clearly enlisted voluntarily.

Earlier on Wednesday, a German court dismissed a case against a 92-year-old man accused of killing a Dutch resistance fighter in World War Two when he was in the SS, citing a loss of evidence.

The Associated Press contributed to this report