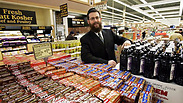 First time approved kosher products brought together in one place (illustration)
Photo: AP
The Conference of European Rabbis (CER), which unites the Jewish religious leaders of Europe, has launched the first ever comprehensive list of all products listed as kosher by various authorities throughout Europe.

This list, available via the CER website, is the first time that approved products have been brought together in one place.

Religious Beliefs

Court ruling reinstates kosher meals for inmates with 'sincere religious basis' despite state's claim that program is too costly

According to a statement issued by CER, the idea is that anyone with an internet connection can log on and view the thousands of items searchable by country, brand name, food type or kashrut authority.

"It is hoped that the list will be invaluable for kosher consumers travelling across Europe who may not have easy access to kosher food," the statement said.

Announcing the launch of the new list, CER President Rabbi Pinchas Goldschmidt said: "This online resource is a fantastic example of how modern technology can be used to make religious life a little easier. The project comes following a huge amount of hard work over recent months and we will of course continue to update and improve it."