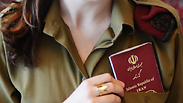 Iranian-born IDF soldier with passport
Photo: Yael Saleh, Bamachane
For the first time, the IDF's weekly magazine Bamahane ("in the camp") published figures regarding the number and positions of Iranian olim who enlist in the Israeli army.

Every year, on average, more than 50 Iranian-born soldiers join the IDF, who together with their families had risked their lives and suffered many hardships on their way to the Jewish State.

Some 60% of Iranian-born males choose to serve in the military, though only 23% of females do – about half of the general enlistment rates for women. The IDF's Manpower Directorate did not provide a detailed explanation for the disparity, though it is likely that many seek religious exemptions, choosing to volunteer for national service instead.

Related stories:

According to the data, one in five Iranian soldiers is drafted into the IDF's intelligence branch. Such service is even more likely for Iranian girls, as one of three are placed in the Military Intelligence Directorate. These figures are significantly disproportionate compared to overall recruitment figures for the general public.

The military makes every effort to convince Iranian-born soldiers to continue their service beyond the mandatory period. Around 14 percent of this demographic signs on for further service, with many becoming non-commissioned officers in the units where they served.

"The Military Intelligence Directorate doesn't have many soldiers with Farsi fluency, so we really try hard to keep Iranian-born soldiers in the service," explained an IDF source to the army magazine.

Because of the intelligence branch's heavy recruitment drive, only one in ten Iranian-born soldiers serve in a combat capacity – a disproportionately low figure compared to the general population. According to the article, in the last year, 110 new Persian olim arrived in Israel through a third country.

The Miraz Israel Foundation, which serves Iranian ex-patriots in Israel has run a special project to help Persians integrate into the IDF and the national service. One of the prominent programs is a discipline and learning course meant to prepare youths for their mandatory military service. More than 30 teenagers have already participated in the course.