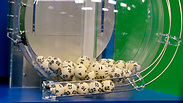 Rabbi consulted on halachic issues involved in using lottery tickets
Photo: AP
A Jerusalem-based company has published a halachic permit from a rabbi, recommending that the ultra-Orthodox public purchase lottery tickets from the company and even calling it a "mitzvah."

In an attempt to attract new clients for group purchases of Mifal Hapayis (Israel's national lottery) and American lottery companies Powerball and Mega, the company presented a surprising letter from Rabbi Naftali Nussbaum, one of the most famous rabbis in the haredi sector.

Last Cigarette

Number of ultra-Orthodox smokers believed to be relatively high compared to general population in Israel. New program aims to fight phenomenon by training haredi smoking cessation instructors

"I hereby declare that I have personally known the owners of the Lotto Gvir company for several years now, and they are honest and loyal people," the rabbi wrote. "In addition, they meet me several times a week, and their integrity can be completely trusted."

The rabbi added that joining the haredi purchase groups was like "observing a mitzvah."

A source explained that the company had consulted the rabbi on halachic issues involved in using lottery tickets.

Although shopping and business investments do not require permits, it is customary in the haredi society that when a famous rabbi gives his consent, his students and followers stick to the company he recommends.

Participating in Mifal Hapayis raffles is not permitted for all members of the sector. While Ashkenazi rabbis believe a person who works for a living is entitled to fill out a lottery ticket, most Sephardic rabbis see it as a forbidden act.