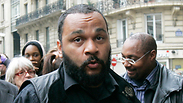 Dieudonne M'Bala M'Bala
Photo: AP
France's top administrative body has turned the tables on a comic who is considered anti-Semitic, ruling in an urgent decision that he cannot perform in the city of Nantes on Thursday night.

The decision by the Council of State in Paris overturned a Nantes court ruling hours earlier that had annulled the ban the city had imposed on the show by Dieudonne M'Bala M'Bala.

The Council cited a risk to public safety and a threat to fundamental French values. Angry crowds outside the theater in Nantes booed and chanted "Dieudonne."

Related stories:

Earlier Thursday a French court suspended a ban that the city of Nantes imposed on a show Thursday night by the comic.

But Interior Minister Manuel Valls, who has pushed to get Dieudonne off the stage, lodged an urgent appeal of the ruling with the Council of State, France's highest administrative authority, to combat what he called the "mechanics of hate."

At least eight of the nearly 30 French cities where the tour is planned through June are known to have banned the performance, and Dieudonne has said he will fight them one by one.

The 47-year-old comedian has been convicted more than a half-dozen times for inciting racial hatred or anti-Semitism in shows in which the Holocaust has been derided. He also has popularized the "quenelle" hand gesture, which Valls has criticized as an "inverted Nazi salute."

Dieudonne (pronounced DYEU-dun-ay) denies his act and the "quenelle" are anti-Semitic.

In its ruling, the administrative court called the ban a grave attack on freedom of expression. It said that the show, called "Le Mur" ("The Wall"), was shown several times in Paris and did not endanger public order. Planned demonstrations, which can be contained by normal means, do not justify pulling the curtains on the show, the court ruled.

Jacques Verdier, a lawyer for Dieudonne, celebrated the ruling, saying: "The show will go on tonight."

On Monday, Valls issued instructions to regional officials, saying that mayors or prefects could ban performances that they consider pose a threat to public order.

Well-known Nazi hunter Serge Klarsfeld said it would be "intolerable" for the comedian to be allowed to stage Thursday night's show, given what already is happening in France. "We have a country in which anti-Semitism is freely accepted," he said in a statement.

Klarsfeld, his wife Beate – also a Nazi hunter – and their son Arno have strongly supported Valls' stand regarding Dieudonne.

"In the face of the mechanics of hate ... we need firmness and determination and great calm," the interior minister said in response to the Nantes court decision. "Hate merchants don't bow" to anything, he said.

Valls is the most popular minister in France's Socialist government, but his adamant stance against Dieudonne, while drawing praise from leading conservative rivals, has left some mystified.

Fears have been expressed that any bans on the show could prove counterproductive or even illegal.

Supporters of Valls have included former conservative Prime Minister Alain Juppe, now the mayor of Bordeaux. He has banned the Dieudonne act from opening in France's wine capital on Jan. 26.

The comic was convicted last fall for using the word "Shoananas," a mash-up of the Hebrew word for Holocaust and the French word for pineapple. A song containing the word was seen as deriding Holocaust survivors and victims.

Last week, an investigation was opened after Dieudonne allegedly made an anti-Semitic slur toward a Jewish journalist on France-Inter radio.

"When I hear him (the journalist) talk, you see ... I say to myself gas chambers ... a pity," Dieudonne said during a performance last month, parts of which were shown on French TV.