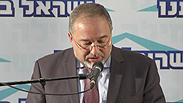 Foreign Minister Avigdor Lieberman
Photo: Eli Mandelbaum
Foreign Minister Avigdor Lieberman said Arabs with Israeli citizenship need to decide to whom they are loyal – to Israel or to the Palestinians.
"They live in some kind of schizophrenia," he said in an interview with the British Telegraph. "They don't know if they are Israeli citizens or if they are Palestinians. Even during our football games you see Palestinian flags."
Despite his remarks, the foreign minister's stance on a peace deal has become more moderate recently than in previous years, either as a result of a drastic inner change or just because it was an interview with the foreign press.
Related stories:
"It's the best proposal we can get and we really appreciate the efforts of US Secretary of State John Kerry. He has really put a lot of energy into the issue," he said.
At the beginning of the week, Lieberman said at a diplomats' meeting in his office that his party won't agree to a deal with the Palestinians without a land transfer.
"We're not talking about a transfer like in the case of Gush Katif. We're not expelling anyone from his house and we're not evicting anyone, we're just moving the border," he said.
Lieberman was referring to the Wadi Ara region, saying that there's no reason why the Arab-dominated area won't join their Palestinian brethren in a Palestinian state, which they so much desire. He also said he wouldn't agree to the right of return for Palestinians.
The foreign minister did admit, however, that even if with two separate states there would still need to be an understanding between the two peoples.
"With or without a comprehensive solution we will continue to live together and continue to be neighbors. There are many problems on the ground, so this direct contact, this negotiation, these talks – it's very important to keep them alive and maintain tem," he said.
The Telegraph reporter, Alex Spillius, noted in his article that Lieberman is indeed a changed man since he was acquitted from all charges in the foreign ambassador affair last November.
"Absent, for now, is the firebrand politician who said that Gaza should be treated like Chechnya and who called for the execution of Israeli Arab MKs who had met members of Hamas, the paramilitary group that runs one of the two Palestinian territories," Spillius wrote.
Lieberman also had a change of opinion on Palestinian President Mahmoud Abbas.
"Lieberman's opinion of Mahmoud Abbas has certainly not become favorable, but the chairman of the Palestinian Authority is no longer referred to as a 'diplomatic terrorist.'"
His trust, however, in the Palestinian leader, is still up for grabs. There is still a question mark over whether or not Abbas "can deliver the goods" in the peace talks.
"You must be ready for compromise, but I am not sure he is able. But we must check (wait for) this possibility because we (Israelis) are ready to go far."