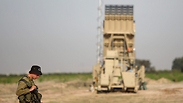 The Israeli Air Force has delayed putting two Iron Dome batteries and the Magic Wand rocket interception system into action, due to budget problems.
The IDF currently has six Iron Dome batteries. The battery proved its effectiveness during Operation Pillar of Defense last year, intercepting more than 80% of the rockets fired at Israel, with only four percent landing in inhabited areas in the country.
The IAF intended to deploy the seventh and eighth batteries in areas where there weren't air defense systems previously, such as in the country's north. The military and Rafael Advanced Defense Systems, creator of the batteries, said they were ready for the deployment, but due to the additional manpower that the batteries require, the Defense Ministry was forced to freeze their absorption into the air corps.
Related stories:
In addition to these two batteries, the IDF is supposed to deploy another five in the coming years. But not only does there need to be enough in the budget for the defense systems themselves, every Tamir interception rocket that it fires costs $50,000.
Due to the budget slash, the commanding officer of the IAF, Gen. Amir Eshel, ordered that Magic Wand would also have its absorption delayed. The mid-to-long range rocket interception system is not as of yet integrated into the IDF's services, but it will be needed to potentially defend against Hezbollah's missiles.
Senior military representatives are saying that despite media reports of an increase to the army's budget, the IDF budget was reduced dramatically.
"There will be significant consequences from these actions that the public doesn't know anything about it," they said. "In recent years the enemy has understood that the cheapest and most effective way to harm Israel is by missiles, and therefore the defense establishment is forced to equip itself with the appropriate defense systems, which have a monumental cost."
The military figures also said that in the case of a multi-front war, even with all of the batteries that are set to be deployed in the coming years it still won't be enough.
Notwithstanding all the budget problems, there were also American media reports this week that said part of the manufacturing of the air defense systems' rockets will be moving to the US from Israel, further harming the industry and raising prices.