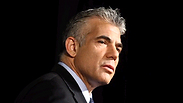 Minister Lapid
Photo: Motti Kimchi
"In every aspect, it seems the world is losing its patience for us," Finance Minister Yair Lapid told Ynet on Friday, following reports that Prime Minister Benjamin Netanyahu issued tenders for 1,400 new settlement homes.

According to the finance minister, the ministry estimates that "if the current state of affairs persists, it will bring damage to the pocket of each and every one of us."

Related stories:

Earlier Friday, the Housing Ministry issued tenders for some 800 housing units in settlements and 600 beyond the Green Line in Jerusalem. The issuance was done in coordination with Prime Minister Netanyahu, who decided to hold off on the announcement until US Secretary of State John Kerry concluded his Mideast visit.

"No one is building; these are not construction tenders; these are construction announcements," Lapid insisted, adding that construction "does no one any good, including the settlements – because it's not happening. On the other hand it complicates the diplomatic process, and that's a mistake."

Lapid added: "I clarified my stance to the prime minister. I wouldn't say these things if I didn't. He has my support on diplomatic issues, but not on this. This construction will not take place."

The minister said he believed that announcing the issuance of the tenders was "an attempt to calm things down with the Right. I think the prime minister is committed to the diplomatic process and to advancing it; I don't think he's trying to torpedo anything, but that's not the right way to calm things down. The Right needs to come to terms with the fact that there is a peace process underway and that there will be two states. We can't act as if that isn't happening."

Lapid said he believed the world's impatience with Israel is manifested in many aspects. "In the case of Horizon 2020, we've managed to prevent the damage, and then we were suddenly faced with the ASA boycott. We couldn't generate any effect around the Iranian deal, because we weren't loud enough, and that is due to the fact that our status is not as it should be. If we do not go forward with the Palestinians, we will lose the world's sympathy and our legitimacy.

The office of Palestinian President Mahmoud Abbas issued a statement in which it condemned Israel's intention to build more settler homes. "The recent announcement shows Israel's clear commitment to the destruction of peace efforts and the imposition of an apartheid regime," chief Palestinian negotiator Saeb Erekat said in a statement.

"(This) is a test for the US administration's ability to hold Israel accountable for actively sabotaging their efforts for peace."