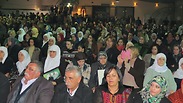 Hundreds in Ara
Photo: Omer Ravia
Hundreds attended a Friday rally in support of security prisoners, held in the village of Ara. Protesters waved pictures of prisoners and Palestinian flags in demand of the release of Israeli-Arab prisoners.

After releasing three rounds of Palestinian prisoners as part of US-brokered peace talks, a fourth and final round is slated to release eight Israeli-Arabs convicted of murderous acts of terror. Various reports, however, indicated that Prime Minister Benjamin Netanyahu may hinder the group's release by stipulating that it take effect only if Jonathan Pollard is released.

Related stories:

As'ad Daqa, the brother of security prisoner Walid Daqa, a member of a cell that killed IDF soldier Moshe Tamam in 1984, told Ynet: "We will not oppose the release of Jonathan Pollard, but it shouldn't have been tied to the issue of prisoners. The Palestinian Authority promised that all Israeli-Arabs be released."





According to him, "these prisoners will have an impact on the peace process; they can lead Arab society in the best way. If they are not released, it will ruin peace."

Samer Issawi – who was held in Israeli prison for involvement in shooting attack against Israelis, released in the Shalit prisoner exchange deal, jailed again, and released again following a lengthy hunger strike – was present at the event, and said: "At first, they convicted Nelson Mandela who supported terror, and then later recognized him for the man of peace that he was and gave him a Nobel Peace Prize. Security prisoners deserve the same prize. They are supporters of peace."

Issawi added: "We will continue to fight for all prisoners. We will not allow the prisoner release deal to exclude Israeli Arabs."

The mother of one of the prisoners said: "Abu Mazen promised he would release all prisoners. He should take responsibility for his promises. If Israeli-Arab prisoners are not freed, we will protest in front of Abu Mazen's house."