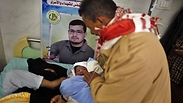 Newborn in Gaza
Photo: Reuters
The wife of a Palestinian jailed in Israel gave birth in the Gaza Strip after being impregnated by sperm smuggled out of an Israeli prison, a prisoner association said on Friday.

While such births have been declared among West Bank wives of prisoners in Israel, this was the first such occasion in the besieged Gaza Strip, director of the Waed Gaza prisoner association Saber Abu Karsh told AFP.

The wife of prisoner Tamer Zaanine, from Beit Hanun in northern Gaza, "gave birth to her first child Hassan today, the first instance of a birth by smuggled sperm of a prisoner."

"This is a victory for the prisoners and for their will to become fathers," Abu Karsh said.

Zaanine's family said the 29-year-old man was sent to prison for 12 years by an Israeli court in 2006, just three months after he married.

There are approximately 5,000 Palestinian prisoners held by Israel, and they are denied conjugal visits.