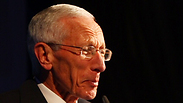 Stanley Fischer
Photo: Motti Kimchi
President Barack Obama took a step Friday toward reshaping the Federal Reserve under incoming chairman Janet Yellen, choosing a leading expert on the global economy to be her vice chairman.

Obama said he will nominate Stanley Fischer, a former head of the Bank of Israel, for the No. 2 job at the Fed. He would replace Yellen, who was confirmed this week to lead the Fed.

Fischer, a dual citizen of the United States and Israel, was a long-time professor at the Massachusetts Institute of Technology. Departing Fed Chairman Ben Bernanke and Mario Draghi, the current head of the European Central Bank, were among his students.

Israeli Export

Op-ed: Proposal to appoint Stanley Fischer as Fed vice chair should make us both proud and sad

In selecting Fischer, Obama is tapping someone with extensive experience in global economics. Fischer served as chief economist at the World Bank, deputy managing director of the International Monetary Fund, and head of the Bank of Israel from 2005 until 2013.

During his time at the IMF, Fischer dealt with a number of countries in financial crises. That included the 1997-98 Asian currency crisis, which forced a number of nations to seek support from the IMF to stabilize their currencies and emerge from deep recessions.

David Jones, chief economist at DMJ Advisors and the author of several books on the Fed, said Fischer had an excellent reputation in the field of monetary policy and would bring expertise in global economics.

"The White House has reached out to someone who has a wealth of not only theoretical experience but practical experience in monetary policy," Jones said.

Economists said they did not expect Fischer, 70, to dissent from the activist approach to Fed policy that Bernanke and Yellen have supported. That effort has kept interest rates low in an effort to stimulate growth and fight high unemployment since the Great Recession.

Critics say the central bank's policies, which also include massive bond purchases, could trigger unwanted inflation down the road. They also warn of a potential buildup in asset bubbles, which could destabilize financial markets.

During his time as head of Israel's central bank, Fischer earned praise for his handling of Israel's economy in the aftermath of the 2008 financial crisis.

Sung Won Sohn, an economics professor at the Martin Smith School of Business at California State University, said that Fischer's selection to help lead a second central bank may be part of a growing global trend. Britain last year tapped Mark Carney to lead the Bank of England after he had been head of the Bank of Canada.

"I think we are going to see more and more such moves," Sohn said. "Because of globalization, the world economy is now very interconnected."