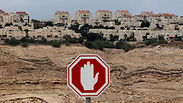 An international campaign to boycott Israeli settlement products has rapidly turned from a distant nuisance into a harsh economic reality for Israeli farmers in the West Bank's Jordan Valley.

The export-driven income of growers in the valley's 21 settlements dropped by more than 14 percent, or $29 million, last year, largely because Western European supermarket chains, particularly those in Britain and Scandinavia, are increasingly shunning the area's peppers, dates, grapes and fresh herbs, settlers say.

"The damage is enormous," said David Elhayani, head of the Jordan Valley Regional Council, which represents about 7,000 settlers. "In effect, today, we are almost not selling to the (Western) European market anymore.

Related stories:

Israel has played down the impact of the campaign of boycott, divestment and sanctions launched by Palestinian activists in 2005 to pressure the Jewish State to withdraw from occupied lands.


"By and large, it's unpleasant background noise," said Israeli Foreign Ministry spokesman Yigal Palmor, arguing that its overall effects have been negligible.

However, the lament of the Jordan Valley famers comes against the backdrop of a growing debate in Israel about the aftermath of a possible failure of US Secretary of State John Kerry's latest mediating mission.

Kerry wants to forge agreement on the outlines of an Israeli-Palestinian peace deal despite major disagreements between the sides.
'Boycott hurts our pocketbook'
Israeli supporters of a land-for-peace deal with the Palestinians have warned that Israel could face a snowballing boycott — of the magnitude that brought down apartheid in South Africa — if it rebuffs proposals Kerry is to present in coming weeks.

Finance Minister Yair Lapid, in an interview with Ynet, warned Israelis on Friday that "a continuation of the existing situation will hurt the pocketbook of each of us," particularly by hitting exports.

The Palestinians, too, could face repercussions if the talks collapse, such as less foreign aid from Europe.

The fate of the Jordan Valley has featured prominently in Kerry's meetings with Israeli and Palestinian leaders. The Palestinians want a state in the West Bank, Gaza Strip and east Jerusalem – the valley would form Palestine's eastern border with Jordan.

Kerry reportedly proposed that Israel maintain military control of that border for at least 10 years after a peace deal to address Israeli concerns about a surprise Arab attack or the possible influx of weapons and militants.

Israeli security hawks say the valley must remain under Israeli control forever. The Palestinians argue that this would prevent them from establishing a viable state because they need the farm lands and open spaces.

Uzi Dayan, a former Israeli national security adviser, said Israel needs the valley, which makes up close to one-fourth of the West Bank, for strategic depth.

"Being here in the Jordan Valley, it is something existential," he said this week, standing on a mountaintop overlooking sprawling date palm plantations. "The national security of Israel is based on defensible borders, not on boycotts."

But economic worries are growing for some of the valley's farmers.

Niva Benzion, who lives in the Netiv Hagdud settlement, used to sell 80 percent of her sweet peppers and grapes to supermarket chains in Western Europe, particularly in Britain.

Sales to Western Europe plummeted in the past two years, she said, adding that she now sells mostly to Eastern Europe and Russia, for up to 40 percent less. She reduced her growing area by one-third this season and doubts she can make ends meet in the future.

Zvi Avner, head of the agriculture committee in the Jordan Valley, confirmed that sales of peppers and grapes to Western Europe — mainly Britain and Scandinavia — have dropped by about 50 percent and fresh herbs by about 30 to 40 percent.

Avner and Elhayani said they are confident they can overcome the difficulties by selling in new markets and by farming more effectively.

The European Union says Israel's settlements in the West Bank and east Jerusalem, now home to more than 550,000 Israelis, are illegal under international law, but has not called for a consumer boycott of settlement products.

As part of the US-led peace talks, the EU has promised Israel and the Palestinians an unprecedented partnership, just short of full membership, if they strike a deal. However, if talks fail, the Palestinians might expect a cutback in EU aid, while Israel might have to brace for a tougher anti-settlement stance by Europe.

This might include reviving plans for EU-wide guidelines for labeling settlement products. Currently, about half the 28 member states support such labeling, a step that would enable consumers to observe a boycott.
British boycott
Britain issued guidelines to retailers for the voluntary labeling of settlement products in 2009. In December, Britain's overseas trade body strongly discouraged firms from doing business with settlements.

In recent years, several British supermarket chains have either begun labeling or stopped selling goods from Israeli settlements.

"Supermarkets are now starting to realize that there's a really big reputational risk involved here," said Michael Deas, a UK-based coordinator for the international boycott movement.

Marks & Spencer said it hadn't sold any products from the West Bank since 2007.

Upscale supermarket chain Waitrose said it stopped selling herbs from the West Bank several years ago. Morrisons, Britain's fourth-largest grocer, said it stopped selling dates from the West Bank in 2011.

In 2012, the Co-operative Group, the country's fifth-largest grocer, banned Israeli settlement produce from its shelves.

Some retailers, like Co-op, said they were taking a moral stand, decrying the settlements as illegal. Others, like Waitrose, said their decision was commercial.

In Germany, the Kaiser's supermarket chain said it stopped carrying products from the West Bank and the Israeli-annexed Golan Heights in 2012.

Israeli officials say the boycott has strong anti-Semitic overtones and aims to delegitimize the Jewish state.

Supporters of the campaign say they are gaining momentum and have pointed to a string of recent successes. This week, Dutch pension asset manager PGGM said it divested from five Israeli banks because they are involved in financing the construction of Jewish settlements.

Other moves, such as a recent decision by an American scholarly group to boycott Israeli universities, invited a broad backlash, in part because it targeted Israel and not just settlements.

Jordan Valley settlers say a boycott also hurts about 6,000 Palestinians employed on their farms.

Palestinian officials counter that Israel has suppressed virtually all Palestinian economic development in the valley and that Palestinians could create tens of thousands of jobs if freed from Israeli shackles.

While some settlers hope to see the valley annexed to Israel, Benzion, 57, said she wouldn't stand in the way of peace, even if it means dismantling her life's work.

"Nothing breaks my heart so easy, especially not bricks," she said. "I will not even have a second thought of leaving here, if it's for a peace treaty with our neighbors. I will cherish that."