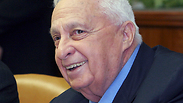 Ariel Sharon
Photo: Getty Imagebank
Hamas, the militant Palestinian rulers of the Gaza Strip who seized power of the coastal region two years after Ariel Sharon ceded Israeli control of the region, hailed the former prime minister's death Saturday as the "departure of (a) criminal."
"We have become more confident in victory with the departure of this tyrant," said Hamas spokesman Sami Abu Zurhi, whose movement preaches the destruction of the Jewish state.
Related stories:
"Our people today feel extreme happiness at the death and departure of this criminal whose hands were smeared with the blood of our people and the blood of our leaders here and in exile."
There was no immediate comment on the death from Palestinian President Mahmoud Abbas, with whom Prime Minister Benjamin Netanyahu, Sharon's successor as Likud party leader, has been holding US-sponsored peace talks.
Abbas' political party Fatah, however, echoed rival Hamas' condemnation of Sharon, and blamed him for the death of Yasser Arafat, who died in 2004.
"Sharon was a criminal, responsible for the assassination of (Palestinian president Yasser) Arafat, and we would have hoped to see him appear before the International Criminal Court as a war criminal," said Jibril Rajub, a senior official of the Fatah party.
Leading Palestinian political figure Mustafa Barghouti told the BBC that while no one should gloat at his death, Sharon had taken "a path of war and aggression" and had left "no good memories with Palestinians".
"Unfortunately he had a path of war and aggression and a great failure in making peace with the Palestinian people," Barghouti added.
In its obituary of Sharon, the Palestinian news agency Ma'an said he, "promoted efforts to take over Arab-owned lands and give them to Jews, with the intent of preventing Arabs who had fled from returning."
Regarding the 1982 Lebanon War, the Palestinian news agency claimed that Sharon "presided over the bloody Israeli invasion of Lebanon… (which) killed around 20,000 Lebanese and Palestinians, and was brutal even by the standards of the ongoing civil war."
"In the most notorious episode of Sharon's career, he presided over and facilitated the massacre of around 3,500 unarmed Palestinian civilians in Sabra and Shatila in southern Beirut by Israeli-supported Lebanese Phalangist militias," the news agency wrote.
As a result of Israel's Sharon-led entrance to Lebanon, Ma'an claimed he was in fact responsible for the formation and rise of power of Hezbollah: "The brutality of the invasion of Lebanon united previously divided Lebanese factions against Israel and led to the creation of the Lebanese political party and militant group Hezbollah."
In Gaza, the Hamas Islamists whose political fortunes rose with the Israeli withdrawal savored Sharon's demise. Sharon had unilaterally disengaged from Gaza, pulling out of the coastal enclave despite mass protests in Israel.
The decision was controversial and the images of Jewish settlers attacking IDF soldiers violently split public opinion.
AFP and Reuters contributed to this report