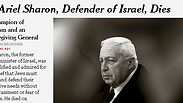 Sharon tops New York Times
The passing of former-Prime Minister Ariel Sharon's did not go unnoticed in the world, and the leading papers from around the globe paid their respect to the historic event.
But not all responses were positive, in its obituary of Sharon, the Palestinian news agency Ma'an said Sharon "promoted efforts to take over Arab-owned lands and give them to Jews, with the intent of preventing Arabs who had fled from returning."
Regarding the Lebanon War, the Palestinian news agency claimed that Sharon "presided over the bloody Israeli invasion of Lebanon… (which) killed around 20,000 Lebanese and Palestinians, and was brutal even by the standards of the ongoing civil war."
"In the most notorious episode of Sharon's career, he presided over and facilitated the massacre of around 3,500 unarmed Palestinian civilians in Sabra and Shatila in southern Beirut by Israeli-supported Lebanese Phalangist militias," the news agency wrote.
As a result of Israel's Sharon-led entrance to Lebanon, Ma'an claimed he was in fact responsible for the formation and rise of power of Hezbollah: "The brutality of the invasion of Lebanon united previously divided Lebanese factions against Israel and led to the creation of the Lebanese political party and militant group Hezbollah."