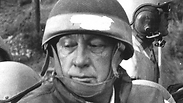 'Sharon was no warmonger, he just put Israel first'
Photo: Defense Ministry
Ron Ben-Yishai is Ynet's senior military commentator. A veteran war correspondent, Ben-Yishai is best-known internationally for his contribution to the Oscar-nominated and Golden Globe-winning film Waltz with Bashir, which documents the experiences of Israeli soldiers during the first Lebanon War.

Ben-Yishai was the first Israeli journalist to cover the Sabra and Shatila massacre in Beirut, for which Ariel Sharon was forced to resign as Israel's defense minister.

Ynet special: Ron Ben-Yishai speaks with Attila Somfalvi about Ariel Sharon's legacy

According to Ben-Yishai, Sharon's "legacy is firstly the survival of the Jewish nation, of the Jewish people in their own homeland; he is a true follower of Ben Gurion. When I say that Israel's survival was the only consideration I mean everything was secondary or third rate to this consideration."

Related stories:

But Sharon was more than that: "The second item in his legacy is that if you say something you do it. He was a pragmatist and doer as both commander and politician. When a million Jews came from the Soviet Union in a very short time, Arik as a housing minster built houses for them."

What was Sharon's biggest success and biggest failure?

Ben-Yishai said that his "Biggest success was crossing the Suez Canal in the Yom Kippur war against all odds and changing the run of events in the war in Israel's favor, convincing the Egyptian to make peace after they understood the cannot win on the battle field."

His biggest mistake was also a military one: "The Lebanon war was his biggest mistake, costing massive and unnecessary losses on both sides.

"But both his greatest success and failures stemmed from the same place: A wish to make the Jewish nation safe. As a peasant warrior, he believed that only Jews with their own two hands can secure their own survival in this very dangerous and precarious region."

Why did Sharon move from being the settler's 'messiah' to the politician who evacuated 7000 Israelis from the Gaza Strip?

Ben-Yishai said: "He was a pragmatism, this was an example of his relentless pragmatism. Like Ben Gurion in his time, when he realized that the survival of 7000 settlers among 1.5 million Palestinians is an impossible mission he immediate decided: OK, lets get out of there and keep the West Bank."

What about Sharon's image abroad as opposed to Israel?

"Abroad, in the world he is depicted as sort of a war monger, a general that only blossomed in the battle field – in some extent its true, I witnessed it, in the battle field he was like a painter. But he was not a warmonger as Palestinians and Arab try to depict him."