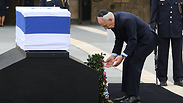 Final Farewell
Photo: Gil Yohanan
Wiping away tears, clutching camera phones and even saluting, thousands of Israelis braved the winter cold and rain Sunday to pay their last respects to former prime minister Ariel Sharon, as his coffin lay in state at the Knesset.

Sharon's died on Saturday at the age of 85, after exactly eight years in a coma brought on by a severe stroke. His death had been expected by Israelis for several days, following an announcement by his doctors at Sheba Medical Center in Tel Hashomer that his vital organs were failing.

Jerusalem District Police set up a special information center to assist those wishing to visit Sharon's coffin. The police had predicted traffic jams around the Knesset compound in the Givat Ram area of the capital.

Related stories:

The former prime minister and IDF general will be laid to rest on Monday, at his family's Sycamore Ranch in the Negev. He will be buried on Anemone Hill on the ranch, next to Lily, his wife of 37 years and mother of his two surviving sons, Omri and Gilad.

Culture Minister Limor Livnat, who is heads the Knesset's Ceremonies Committee confirmed Saturday that Sharon will receive a state funeral, with a military ceremony.

Eight IDF generals will carry Sharon's casket from the Knesset to the site of the funeral. The eight include IDF Deputy Chief of Staff Gadi Eizenkot, Israel Navy chief Ram Rothberg, Israel Air Force chief Amir Eshel, GOC Southern Command Shlomo (Sami) Turgeman and Military Intelligence Director Aviv Kochavi.

The funeral is to be attended by local and foreign dignitaries, including US Vice President Joe Biden and former British prime minister Tony Blair. Livnat said that Biden and Blair will speak at the funeral, along with President Shimon Peres and Prime Minister Benjamin Netanyahu.

Tributes to Sharon poured in from across the world at news of his death on Saturday.

"We join with the Israeli people in honoring his commitment to his country," US President Barack Obama said in a written statement, while former president George W. Bush said he "was honored to know this man of courage and call him friend."