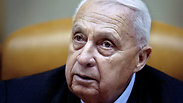 A steady stream of people walked up the hill to the Israeli parliament, through metal detectors and along the path that led to the coffin of one of Israel's most controversial and iconic Prime Ministers. The coffin was draped in an Israeli flag, surrounded by wreaths, and attended by an honor guard. A rabbi read psalms quietly as the crowd walked by.
Some of those coming today had met Sharon, many had not, but they came to honor a man who has left an indelible imprint on the country Israel is today.
"He was a great man, and he got me out of captivity in Egypt in 1973," Benny Danon told The Media Line. "He changed the course of the war and saved the State of Israel. He was more than a father to me. He deserves all of our respect and honor."
Related stories:
Danon was one of almost 300 Israelis captured during the first weeks of the 1973 Yom Kippur war. He said he was tortured during his six weeks in captivity. Israel exchanged some 8300 Egyptian prisoners and almost 400 Syrians for the Israelis.
During the Yom Kippur war, Sharon ignored orders and marched across the Suez Canal.
Some in the crowd came to honor the man they knew as their commander.
"I fought with him both in the Gaza Strip in 1967 and in October 1973 when he disobeyed orders and led us just 100 kilometers (60 miles) from Cairo," Eliav Aviram, a tour guide, told The Media Line. "He is the most charismatic and courageous leader we have ever had in the army."
Former Knesset member Ruhama Avraham Balila, had a close personal relationship with Sharon, first in his Likud party, and then in the new centrist Kadima party that Sharon formed in 2005 just a few months before the massive stroke that left Sharon in a coma for eight years.
"I am very sad to see the coffin here," she told The Media Line. "I have so many wonderful memories of this man. He was someone who knew how to make decisions and he was truly a great leader."
One of Sharon's most controversial decisions was to remove all Jewish communities from the Gaza Strip in 2005, called the disengagement. In his book, Sharon's son Gilad said it was originally his idea, but once his father adopted it, he was determined to carry it through, despite harsh opposition from the right-wing parties in Israel.
Some of those who came to honor Sharon said they believe he had a true change of heart and would have continued to make peace with the Palestinians and withdraw from the West Bank as he withdrew from Gaza. His successor Ehud Olmert, held a series of intensive negotiations with Palestinian President Mahmoud Abbas, and says he came close to a peace deal with the Palestinians. In the end, he says, Abbas was unwilling to sign the deal.
"In 2005 Ariel Sharon came around and realized that the settlements were a mistake, and he tried to remedy it," Basia Yoffie, who was visiting from NY told The Media Line. "He started to use the term 'occupation'. One time he even said to one of his cabinet ministers, "You want us to stay in Jenin forever? Forever?"
Others said that he withdrew from Gaza primarily because he wanted Israel to hold on to the West Bank.
Some came to the Knesset because they admired Sharon as a person even more than as a soldier and a politician. Sharon spent a lot of time on his sheep ranch deep in Israel's Negev desert.
"He loved animals, and nature and his family," Efrat Barazani, who said she had never come to honor any other Prime Minister told The Media Line. "I came because he had so much warmth and was so human."
Sharon will be buried on Anemone Hill overlooking his ranch, next to his wife Lily.
Article written by Linda Gradstein
Rye Druzin contributed to this report
Reprinted with permission from The Media Line