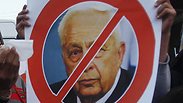 Anti-Sharon protests
Photo: Reuters
The Arab world received the news of former Prime Minister Ariel Sharon's death with relative schadenfreude, publicly criticizing him for his role in the Sabra and Shatila Massacre during the First Lebanon War.

From Cairo and Beirut to Dubai and the Gaza Strip, there were competitions of who could insult him more, while others were satisfied with celebrating outside turning local streets into a pocket of bedlam.

Celebratory gunshots were heard in refugee camps in Lebanon on Sunday, which one internet user called "the day of revenge for the victims of Sabra and Shatila."

Related stories:

Hezbollah Al-Manar television network dubbed the former premier's passing "the death of a criminal," and the official Syrian news agency Sana said Sharon was "one of the perpetrators of the Sabra and Shatila Massacre and the slaughter in occupied Palestine."

An advisor to former Egyptian President Mohamed Morsi said Sharon's death was insignificant.

"There are still another six million Sharons living on lands they stole and continue to steal everyday."

Brazilian caricaturist Carlos Latuff depicted Sharon as carrying his sins – Sabra, Shatila, Qibya and Jenin – to hell. An Egyptian caricature showed Sharon being thrown into the garbage can of history.

The al-Aharam paper said that first Israeli Prime Minister David Ben-Gurion "described Sharon as a war machine, and Sharon promised to burn the children of Palestine." Other newspapers called him a murderer and that he had blood on his hands.

In Gaza, refugees shouted "Sharon, go to hell," while others burned his picture and gave out candies to passers-by.

Fatah executive Jibril Rajoub told French media that "Sharon was the criminal responsible for Yasser Arafat's death." He said he wanted Sharon to stand trial at the international court for war criminals.

The Jordanian regime at first published a short announcement about the death condemning the leader, but citizens said that there were still too many types of Sharons leading the countries of the Middle East.