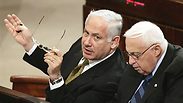 Sharon and Netanyahu in 2005
Photo: AP
Ties between the late Arik Sharon and current Prime Minister Benjamin Netanyahu have always been turbulent, marked with constant battles on the Likud leadership.

Sharon never seemed to conceal his criticism of Netanyahu, and is known to have repeatedly referred to Netanyahu as "a man who is easily pressured." The two's distrust culminated in Netanyahu's retirement from the Finance Ministry, but the rift started in Netanyahu's first term as prime minister.

Related stories:

In May 1996, then opposition chair Benjamin Netanyahu ran for prime minister against Shimon Peres, with polls indicating the latter in the lead. Sharon enlisted the support of haredi parties in favor of Netanyahu, managed to bridge the gaps Netanyahu had with David Levy's party, and purportedly contributed to Netanyahu's eventual win.

Prior to the Likud's win, Sharon was quoted saying: "There is a position I would like to fill (in the government) and can do better than most other candidates – Defense Minister. Another position I can do well is Finance Minister. I don't intend to take any other position in this government."

Once the election results were determined, however, Sharon realized Netanyahu had no plans to assign him any ministerial position, and instead offered him minor political duties, which he refused. Following lengthy negotiations, mere hours before the cabinet was sworn in, Sharon announced to the press that he had accepted an offer to head the Housing Ministry, only to find out that Netanyahu had already decided to hand the Housing Ministry to the religious party – Habayit Hayehudi (The Jewish Home).

Tzomet party chairman David Levy then issued a statement to the press, insisting that "A Likud-Gesher-Tzomet government will not be formed without Arik Sharon. We must make any effort to include Sharon as a cabinet member… The man can, and did, bring about a win, and it is inconceivable that the government would be presented without him."

At that point, as a senior official told Ynet on Sunday, "Bibi turned out to be paranoid, and felt that things were slipping through his fingers."

Netanyahu then set out to design a position that befits Sharon's grandeur, architecting the National Infrastructure Ministry, but ties between Sharon and Netanyahu seemed irreparable.

Were you betrayed by Netanyahu? Several media outlets asked Sharon, to which he responded by suggesting that the prime minister's credibility had been damaged.
Appeasement attmepts
In 1998, Netanyahu suggested that Sharon be chief negotiator in peace talks with the Palestinians. Sharon's iconic response was: "I have known all the prime ministers before you, and have worked with almost all, excluding Moshe Sharett, but you are the greatest, most impressive of all. Bibi – you are the best premier in instigating delusions in the minds of others."
In October of that year, Netanyahu decided to appoint Sharon as the State's foreign minister, saying "he is the most suitable man in the country to perform as foreign minister. He's a remarkable man, with ample experience, creativity and potency. I also think he is well aware of both the damages of war and the fruit of peace. I am glad he had accepted my offer to work with me and help the Israeli government with achieving our main goal – peace and security."
In 1999, after Netanyahu lost the election to Ehud Barak, he retired from his post as Likud chair, prompting Sharon to retake the lead.
As head of the party, Sharon announced his intentions to form a grand coalition. His coalition, formed in 2001, indeed included both Rightwing and Leftwing parties, but in 2002, Labor ministers quit the government and Netanyahu replaced Shimon Peres as foreign minister.
Netanyahu then ran against Sharon in the next Likud primaries, but lost.
In 2003, when Sharon was reelected premier, he took the Foreign Ministry from Netanyahu's hands and gave it to Silvan Shalom, offering Netanyahu the treasury – when Israel was on the verge of economic collapse.
Disengagement
The disengagement marked the two leaders' record tension. Netanyahu led several ministers to give an ultimatum to Sharon, by which they will resign if Sharon doesn't take the matter of the pullout to referendum. But Sharon would not give in, and all the ministers eventually voted in favor of the pullout.
"Last night I told my assistants," Sharon said in an interview with Yedioth Ahronoth, "that they should learn a lesson from what happened: never, ever give in to pressure and threats."
Sharon spared no punches from his political rival. "This man usually panics," said Sharon. "Netanyahu is a man who is stressed or becomes stressed under any condition of pressure. He panics and loses his head. I saw him in this kind of situation many times. Israel is a special country, and in order to lead it, you need to have good judgment and nerves of steel. Netanyahu has neither."
Sharon further added: "Those who wanted to see him lose his calm, could see it in his unsuccessful revolt in the Knesset." Sharon added that he would not trust a man who runs away from responsibility a week before submitting a budget. "After Netanyahu supported the disengagement four times, he up and ran. He couldn't lead a country. Certainly not Israel."