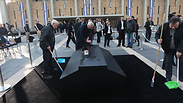 Knesset Plaza, Monday morning
Photo: Gil Yohanan
Israel honored former prime minister Ariel Sharon with a three-part state funeral Monday, beginning in the Knesset plaza and ending with his burial at his beloved Sycamore Ranch, the family home in the Negev.
The Knesset ceremony was attended by dignitaries from around the world, including US Vice President Joe Biden, former British prime minister Tony Blair, Czech Prime Minister Jiří Rusnok, German Foreign Minister Frank-Walter Steinmeier and Russian Duma Chair Sergey Naryshkin.
"The security of his people was always Arik's unwavering mission – a non-breakable commitment to the future of Jews, whether 30 years or 300 years from now," said Biden in his tribute at the Knesset, adding it was a great honor to represent the United States at Sharon's funeral service.
The vice president said he had known Sharon for more than 30 years, and that as a young senator, upon being invited in to Sharon's office, it didn't take him long to understand why the general had earned the nickname of "bulldozer".
Joe Biden pays tribute to Ariel Sharon (Photo: Gil Yohanan)
Sharon had strong opinions, Biden said, but he always had clear motivation: "Like all historic leaders, he had a north star that guided him. The north star which he never – in my observation – deviated from. His north star was the survival of the State of Israel and the Jewish people."
Former United Kingdom Prime Minister Tony Blair also paid his respects to the former Israel prime minister, and praised Sharon's passion for the wellbeing of the State of Israel: "The same iron determination he took to the field of war he took to the chamber of diplomacy," he said. "When that meant fighting he fought, when that meant making peace he sought peace."
President Shimon Peres eulogized Sharon as a "friend, leader and general." The two men were for decades stalwarts of the Israeli political system, both serving as prime minister and defense minister.
Sharon's life, he said, was interwoven in the history of the state, and he had dedicated his life to the country. "We're departing fron you today. You were a shoulder that the nation's security could rest upon on."
"Arik was a man of the land, and he protected this land like a lion, and he became a military legend in his lifetime," Peres said. "You made decisions and you came out victorious," he said. "Our great leader, rest in peace. The land from whence you came will embrace you in its great and warm arms of the history of our people."
Netanyahu and Peres at Sharon's Knesset memorial (Photo: Reuters)


(Photo: Amos Ben Gershom, GPO)
Prime Minister Benjamin Netanyahu hailed Sharon as "one of the greatest generals that the Jewish people and the Israel Defense Forces had ever known."
He said Sharon belonged to the generation of Israel's founders and its independence. "Israel's independence was dependent on a generation of Jewish fighters that renewed our heritage of Jewish heroism in the land of Israel, and Sharon played a central role in building this heritage."
Two speakers represented the Sharon family at the Knesset - Marit Danon, Sharon's personal secretary during his time in office, and Shimon Kahaner, who was a soldier under Sharon's command.
Danon said she learned from working with the former leader that he was a sensitive man that always treated those subordinate to him with respect: "There wasn't one bereaved family that received a negative answer to meet with Sharon." Kahaner recalled how the general saved his life in 1955 when he was wounded: "He didn't stop until he removed me from the warfront," he said. "I owe him my life."
Following the Knesset ceremony, a military convoy took Sharon's coffin to Sycamore Ranch. The convoy stopped in Latrun, where the general who fought in almost all of Israel's wars received a special salute by IDF's General Staff.
Military service honoring Sharon in Latrun ( )
Following the ceremony in Latrun, which was closed to the public, the funeral procession headed to Anemone Hill, where Sharon was laid to rest beside his late wife, Lily. There, Sharon's sons Omri and Gilad paid tribute to their father, along with IDF Chief of Staff Benny Gantz.
"Today, when you return to your beloved home one last time, long lines of fighters have come to salute you for the last time,"said Gantz. "Rest in peace, commander. The land on which you established your family, which you made on your own, for which you fought for with your own hands, is the one that takes you to your eternal rest."
Sharon's two sons, Omri and Gilad, each gave an emotional eulogy. "Look around, Ariel. Look around and see the people cherishing your memory and bowing their heads," said Omri. "You were admirable, father."
"We were next to you on Saturday at Tel Hashomer, and your grandchildren were running around the room," said Gilad. "We held a lively discussion like we used to at home, only the main character was lying motionless."
Concluding the service, Gilad declared: "Beloved father - you have returned home."
Mati Siver, Moran Azulay, Noam (Dabul) Dvir, Shachar Chai, Matan Tzuri, Elior Levy and Attila Somfalvi contributed to this report