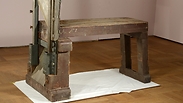 Hitler's guillotine found in Bavarian museum
Killing apparatus famed for taking lives of resisters Hans and Sopie Scholl of White Rose movement revealed. Chairman of siblings' association calls for its public release. Last surviving member of group: No entertainment must be made of their violent deaths
The guillotine that finished the job for some of Adolf Hitler's youngest and bravest enemies was found in the basement of the Bavarian National Museum in Munich.

The discovery caused an uproar in Germany as to whether to display the apparatus that took the lives of two famous resisters from the White Rose movement, Hans and Sophie Scholl.

When Hitler rose to power he announced that traitors and resisters would be executed, and he ordered that 20 guillotines be built.

Related stories:

In 1943, the two Scholl siblings distributed anti-war flyers in Ludwig Maximilian University of Munich, and were subsequently caught and handed over to the Gestapo. The White Rose's flyers described the Nazis' fall at Stalingrad, as well as the atrocities being committed there in the ensuing battles.

On February 22, they were sentenced to death for the crime of treason, and were executed in Stadelheim Prison. Three other members of the group were killed along with them.

It was revealed in Sophie Scholl's investigation that she was given the opportunity for a pardon if she would accuse her brother and the other members of the underground movement in the flyer distribution, but alas she refused. The Scholl's name in post-war Germany took lift, and their name adorns, in part, multiple schools in Germany.

A spokesperson for the museum where the guillotine was found said that decades ago access was blocked to the killing object due to the appalling results that it produced.

Hildegard Kronawitter, the chairman of the White Rose Foundation, said the museum must present the guillotine to the public in its historical context."

'You can't lock away such an artifact and pretend that it doesn't exist,' she said.

Franz Josef Mueller, 89, the last surviving member of the White Rose group, disagreed with Kronawitter.

"No, this should not go on display, he said. "No entertainment must be made of their violent deaths. The memory of Sophie and Hans is deep within me. I think of them every day."