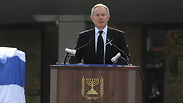 Tony Blair
Photo: Gil Yohanan
US Vice President Joe Biden fondly recalled his encounters with former prime minister Ariel Sharon at his funeral Monday, reminiscing about the time that he, a young senator, had been summoned to the famous Israeli warrior's office.

"The security of his people was always Arik's unwavering mission – a non-breakable commitment to the future of Jews, whether 30 years or 300 years from now," said Biden in his tribute at the Knesset service, adding it was a great honor to represent the United States at Sharon's funeral service.

Joe Biden at Ariel Sharon's funeral ( )

Meanwhile, former British prime minister Tony Blair praised Sharon's passion for the well-being of Israel.

"The same iron determination he took to the field of war he took to the chamber of diplomacy," he said. "When that meant fighting he fought, when that meant making peace he sought peace."

Tony Blair

Blair said the "warm-hearted, humorous, charming and passionate" Sharon was a warrior in the creation of his country, but was wise enough to know that war alone could not secure its future.

LIVE: State of Israel pays final respects to Ariel Sharon

"He did not pursue peace as a dreamer but he did dream of peace and an end to war," he said. "This man was a student of history as well as a maker of it."

Blair also commented on his nickname of "bulldozer": "Once decided he was unflinching," he said. "He didn't move, he charged. He could leave considerable debris in his wake."

Sharon's legacy of love for his country, he said, will be remembered forever.

"He was a giant of this land," Blair said. " Born of the union of a great spirit and a big heart."

Blair concluded his remarks with the three word Hebrew saying for rest in peace: "Yehi Zichro Baruch".