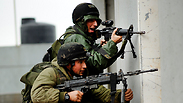 IDF troops (illustration)
After a court battle lasting more than three years, the State of Israel has agreed to compensate hundreds of IDF soldiers who participated in a classified experiment to develop an anthrax vaccine.

Every soldier who filed a claim will receive NIS 36,000 ($10,000), while soldiers who didn't file a claim but participated in the experiment will receive NIS 27,000 ($7,000).

The decision to establish a compensation fund of NIS 21 million ($6 million), from which the funds will be taken, was made recently in a settlement agreement approved by a district court. Even though 700 soldiers participated in the testing, only a hundred of them filed a damage claim against the Defense Ministry.

Related stories:

Most of the claimants said Sunday that they were satisfied with the deal that was struck.

"We're talking about an important decision," Yoram Deutsch said, a former combat soldier in the Paratroopers Brigade who took part in the trial. "We didn't go to court for the money, we went so the Defense Ministry would take responsibility, and if there will be another problem in the future we'll know with whom to speak."

Under the terms of the compromise deal reached, the state admitted that during the experiment there were isolated cases of soldiers stricken by side effects from the vaccine. Some soldiers developed Crohn's, thyroiditis, skin inflammation and partial kidney failure.

Although those facts were established, the claim wasn't filed against the medical effects of the experiment, but rather in the manner in which the army signed up the soldiers, an agreement that deprived the soldiers of anonymity.

Representing the soldiers, attorney Boaz Ben Tzur said the soldiers enlisted to take part in the test were not given a satisfactory explanation of the potential side effects.

The State also agreed to instruct the army's medical research administration to provide the soldiers with all the medical details related to the experiment. It will also provide medical opinions for those who took part, in the event that they would want to be recognized as disabled war veterans in the future.