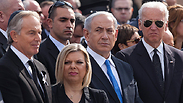 Blair, Sara Netanyahu, Benjamin Netanyahu, Biden
Photo: AP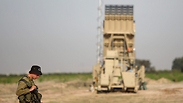 Iron Dome along Gaza border
Photo: EPA
Only a short time after leaders from Israel and the world left the northern Negev ranch where former Prime Minister Ariel Sharon was laid to rest, two rockets were launched at the area. There were no injuries or damage reported.

At roughly 4 pm, two rockets were fired from the Gaza Strip towards Israel and landed in an open field in the vicinity of the Gaza border fence, only a few kilometers from where US Vice President Joe Biden and former UK Prime Minister Tony Blair had just eulogized Sharon.

The Palestinians have reported that the IAF has attacked a Hamas military camp in the Nuseirat refugee camp in the center of the Gaza Strip.

The IDF Spokesperson Unit said that the IAF attacked a military compound in central Gaza Strip and terror infrastructure in the southern part of the strip.

Among other dignitaries present at Sharon's service at the Sharon family Sycamore Ranch were Prime Minister Benjamin Netanyahu, senior government minister, Czech Prime Minister Jiří Rusnok, German Foreign Minister Frank-Walter Steinmeier and Russian Duma Chair Sergey Naryshkin.

Related stories:

US Vice President Joe Biden fondly recalled his encounters with former prime minister Ariel Sharon at the funeral, reminiscing about the time that he, a young senator, had been summoned to the famous Israeli warrior's office.

"The security of his people was always Arik's unwavering mission – a non-breakable commitment to the future of Jews, whether 30 years or 300 years from now," said Biden in his tribute at the Knesset service, adding it was a great honor to represent the United States at Sharon's funeral service.

Meanwhile, Blair praised Sharon's passion for the well-being of Israel. "The same iron determination he took to the field of war he took to the chamber of diplomacy," he said. "When that meant fighting he fought, when that meant making peace he sought peace."

The tensions on the southern Gaza border have been rising since December 21, when the Palestinians reported that a man in his twenties was killed by IDF fire after approaching the northern side of the border fence.

A few days after wards, on December 26, a Qassam rocket exploded in an open field in the Hof Ashkelon Regional Council.

Fearing further escalation in southern Israel, Iron Dome batteries were deployed in several locations in the south of Israel – in Ashdod, Beersheba and Sderot.

At the time, Prime Minister Benjamin Netanyahu said that "Israel holds Hamas responsible for all the attacks launched on us. We will strike at those who attack us, and at those who support them," he said in remarks that were also broadcast on radio.