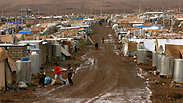 More than 40 Palestinians have now died of starvation in the Yarmouk refugee camp in Damascus, say activists who are calling on the Palestinian Liberation Organization (PLO) to intervene.

Three quarters of the dead have perished in the last three weeks as the situation in the camp, which is home to much of Syria's Palestinian population, reaches a crisis point after six months of a crippling siege which have seen supplies of food and medical aid blocked from reaching the camp.

Abu Muhammed, an activist who works in the camp, told the Media Line that more people were currently at risk: "There are another 10 people (dying) and there is nothing we can do for them."

Related stories:

An estimated 170,000 people were previously living in the camp, with most leaving during the year long partial-siege before movement in and out of the camp became completely cut off.

Conditions in the refugee camp have become desperate since the full government siege began in July 2013. The blockade of the area has meant no aid has been able to reach the estimated 18,000 residents of the camp. Christopher Gunness of the United Nations Relief and Works Agency for Palestinian Refugees said it isn't just the lack of food and medicine that is making the situation untenable for residents.

"Residents are having to rely on going out on terraces and burning furniture and branches to warm themselves in the open because wood fires cannot be used indoors. There is a very infrequent supply of tap water – reportedly available for four hours only at intervals of three days."

Many of Yarmouk's residents are of Palestinian origin and tensions within the Palestinian community reached Ramallah over the weekend as young protestors staged a sit-in at the PLO headquarters in the city over what they believe is a failure by the Palestinian administration to assist in relieving conditions in the camp.

Abu Muhammad believes the PLO should listen and take action on behalf of their people.

"I am Palestinian. We want to tell the PLO that if they don't do anything the revolution will arrive to Ramallah and Gaza," he said.
Eating liquids
The United Nations is gravely concerned about the appalling conditions in the camp, Gunness told the Media Line.
"There is profound civilian suffering with widespread incidence of malnutrition with the absence of medical care; including for those who have severe conflict-related injuries, and including for women in childbirth – there have been fatal consequences for some of these women. Residents including infants and children are subsisting for long periods on diets of stale vegetables, herbs, powdered tomato paste, animal feed and cooking spices dissolved in water."
The Syrian regime's campaign has seen suburbs of Damascus and small towns essentially choked of food and supplies until residents either starve or surrender. However, in other suburbs a peace deal has been brokered by rebel groups and government forces which has allowed civilians to be evacuated or relief to be brought in.
Despite peace talks toward the end of 2013 and ongoing negotiations between partied, such an agreement has not been reached in Yarmouk, Abu Muhammed said.
Abu Muhammed says aid convoys and deliveries have been blocked from entering the camp. In November an activist told the Media Line that a convoy he was delivering was shelled twice as it approached the camp and this pattern has continued.
"From a humanitarian perspective, Yarmouk remains closed to humanitarian access and remains a place where extreme human suffering in primitively harsh conditions is the norm for Palestinian and Syrian civilians living there," Gunness of the UN said.
"I emphasize that the imperative remains that Syrian authorities and other parties must allow and facilitate safe and open humanitarian access into Yarmouk to enable us to assist civilians trapped there."
In addition to the humanitarian conditions in the camp there are continuing clashes, with the Syrian Observatory for Human Rights reporting that several surface to surface missiles were fired into the camp last week.
Article written by Jane Burgess
Reprinted with permission from The Media Line