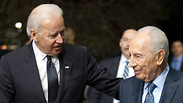 Peres and Biden
Photo: Leor Mizrahi
President Shimon Peres hosted Vice President Joe Biden for a diplomatic work meeting Sunday afternoon.

Follow Ynetnews on Facebook and Twitter

Biden was in Israel as head of the US delegation to the funeral of former Prime Minister Ariel Sharon, who passed away Saturday at the age of 85 after spending eight years in a coma. Biden was accompanied by Rep. Eliot Engel and Rep. Wasserman Shultz.

Vice President Biden thanked President Peres for his welcome and said, "President Obama wanted me not only to be here to pay our respects to a great war hero, but to a man who knew the changes that occurred in Israel."

"At the very outset (of Israel's existence) the overwhelming necessity was literally to keep from being pushed into the sea by hostile neighbors… (Sharon) changed the circumstance where Israel is no longer in physical jeopardy as a consequence of being overwhelmed.

Related stories:

"As that changed it seemed to me as though former Prime Minister Sharon did not change but changed his focus. One of the last major statements he made was that he wanted to work on peace… I think it reflects a change in the region, the need, the understanding that Israel's ultimate security rested on a genuine accommodation with the Palestinians borne out of secure borders."

Addressing the Arab Spring and its ramification on the peace process, Biden said, "The only place where there is a possibility for an island of stability is quite frankly between the Palestinian people and the Israeli people, in two secure states respecting one another's sovereignty and security.

"The President believes and I believe this is one of those opportunities, one of those moments in history that have to be seized. There are difficult decisions, very difficult decisions and I, like you, believe the prime minister is up to it."

President Peres welcomed Biden and said, "All of us are aware that we have to take the decision now, that it's tough and difficult but we have an open window and God knows when it will happen again.

"I believe that our government, headed by Prime Minister Netanyahu is taking it seriously. I believe the President of the Palestinian Authority is a serious partner and the right one. I believe there is a serious attempt to make the right decision and there is only one – two states for two peoples."

President Peres continued and said, "I want to commend the work of John Kerry. I believe in his energy and his contribution. There are changes on our side and on the Arab side.

"The future of the Middle East will affect our future and we would like to see it successful and prosperous."