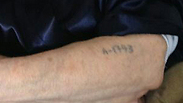 Holocaust survivor
Photo: Irit Lerner
Local Holocaust memorial service plans to charge Holocaust survivors entrance fee
Ramat Gan is planning on charging Shoah survivors NIS 20 to participate in Holocaust ceremony. 'It is unthinkable that a body as wealthy as the Ramat Gan Municipality will charge Holocaust survivors money,' city council member says
The Ramat Gan Municipality is charging Holocaust survivors an entrance fee to participate in a Holocaust memorial service.

The memorial service, set for January 27, in coincidence with International Holocaust Day was published on the municipality's website. The poster for the event stressed that only Holocaust survivors and their children could attend the event, but would have to pay a NIS 20 ($5.73) entrance fee.

Related stories:

"Its outrageous," said Yossef Strubolonski, a 83-year-old Holocaust survivor who ran for the Ramat Gan city council during the previous elections.

'Remembering the past, living the present and believing in the future' poster to event reads. Highlighted at bottom: 'Ticket price NIS 20, including coffee and pastry'

"I fear that some senior citizens, among them survivors, will not come just because of the price. We need to allow the wider audience to attend. (If not) it might harm the larger issue facing survivors."

Shai Bechor, a city council member from the Youth party slammed the move saying "it is unthinkable that a body as wealthy as the Ramat Gan Municipality will charge Holocaust survivors money so they can participate in a municipal memorial service. As youths we need to everything to protect survivors' rights. The ceremony should be open to everyone, and be free of charge."

In response the Ramat Gan Municipality said that "past experience has taught us that when you give out free tickets, people tend not to feel committed to the being present and then you end up with a half empty hall. In other cases, we have had more people show up than what the hall could hold, and it was a mess. In a bid to prevent either situations, we decided to take a small token fee of NIS 20."

"The event is a large and respectable one and it is funded entirely by the municipality. The token fee is not covering any costs and will be put to good use in aiding survivors."

The statement further noted that "As of now no complaints have been registered. If anyone has payment issues they should contact us and we will assist them."