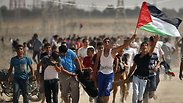 Qassam Brigades
Photo: Reuters
Twitter suspended the official English account of the Izz ad-Din al-Qassam Brigades – the military wing of Hamas – without warning the group, the Palestinian news site Safa reported over the weekend.

The supervisor of the terrorist group's account said the social media organization suspended the organization's account on Thursday after being pressured by Zionist groups and Christians.

In a statement on the Qassam Brigades' website, the account manager said Twitter closed the account because of an image published depicting Palestinian resistance to the West.

The group strongly condemned the decision.

Related stories:

"The Qassam Brigades confirmed that they did not violate Twitter's terms of service ever, asserting that reason behind the suspension is Twitter subordination to US government and Israel' as usual," they said on their website

They also spoke out against Twitter's two-sided policy.

"Israel's IDF still has an active account on Twitter in which they can spread out their terrorism and odious propaganda," the statement said.

The group has launched a new page on Twitter called @qassambrigade.