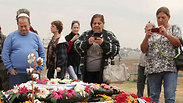 Visitors at Sharon's grave
Photo: Ido Erez
Less than 24 hours after his burial, Ariel Sharon has become as much of a legend in death as he was in life. His grave is now a pilgrimage site. Not just for those who remember his decades-long career as a soldier and politician, but also, it seems, for young Israelis.

"This is a very special place. I have learned many things about Sharon, like his activities in Unit 101, the battle at Latrun and the political decisions he made as prime minister," said 17-year-old Mike Cohen, a high school student from Haifa, who arrived at the gravesite Tuesday morning with his friends

Related stories:

From the early hours, Israelis began to arrive at Anemone Hill, where Israel's eleventh prime minister was laid to rest Monday beside Lily, his wife of 37 years. The first to arrive were the students from Haifa. They made their way south in preparation for their annual school trip. Their humanities teacher, Ilana Aron, says her students were very excited: "In recent days they have heard a great deal about Sharon's condition. To stand by his grave – this is a special moment for them."

Throughout the day, more and more people made the climb up the hill. Among them was Ehud Olmert, Sharon's deputy in Kadima, and the man who stepped in as prime minister and party leader when Sharon was incapacitated by that fateful stroke in 2006. Olmert paid his respects at the grave, and then headed to the family home, where Sharon's sons are sitting shiva (mourning).

Olmert at Sharon's grave (צילום: רועי עידן)

Sharon's driver for 20 years, Gilbert Cohen, also visited Tuesday. "I came this morning simply to be with Arik, to be by his side," he said. "When I stand here, it takes me back to the day when I arrived at the Sycamore Ranch to start work as a driver. That day my entire body was shaking."

Cohen also came to ask forgiveness for any past transgressions. "I hope that the Israeli people know how to cherish a man like this."

Among the other visitors were Zivit Zaruk and her mother Penina Kirshner, who came from nearby the Nir Moshe moshav to pay their respects.

"This is definitely a sad day for us," Zaruk said. "Sharon was an amazing man and deserving of unprecedented public support. I doubt there will be leaders of his ilk in the future."

Eli Cohen of Beersheba was also there. He recalled how his father would tell him stories of his experiences when he served with Sharon in the Sinai. "My father would tell me astounding stories about Sharon," he said. "In his view, Sharon was the number one soldier."

The police believe the number of visitors to Anemone Hill will onlhy swell in coming days, in particular at the weekend, and that the spot will become a local landmark.