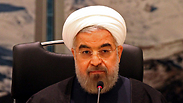 President Hassan Rohani has praised a landmark nuclear deal struck in Geneva as his country's victory, telling a home crowd it effectively means the "surrender" of Western powers to Iranian demands.

The remarks were part of the moderate Rohani's efforts to bring around hard-liners who claim the deal tramples on Iran's enrichment rights.

Last week, the six-nation group – the five permanent members of the UN Security Council and Germany – and Iran agreed to start implementing the terms of the November deal later this month.

Under the deal, Iran agreed to cap its uranium enrichment in return for some relief from Western economic sanctions.

Speaking Tuesday in the oil-rich province of Khuzestan, Rohani said the "Geneva deal means the surrender of big powers before the great nation of Iran."

Under the deal reached in November, Tehran agreed to curb parts of its nuclear drive for six months in exchange for receiving modest relief from international sanctions and a promise by Western powers not to impose new measures against its hard-hit economy.