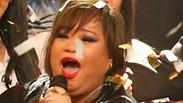 Rose Fostanes wins X-Factor
Photo: Tal Givony
She might be flying high after winning Israel's X-Factor singing competition on Tuesday night, but Rose Fostanes, a 47-year-old caregiver from the Philippines, could be in trouble with the authorities if she violates the profession listed on her work permit.
"I'm just a caregiver who wants to be a singer," Fostanes told Ynet, "I don't know what will happen now."
Fostanes arrived six years ago to work as a caregiver so, like millions of other Filipino workers around the world, she could send money back home to her family and her girlfriend of 30 years. And due to Israeli law, she can only work in Israel as a caregiver - any money she earns as a singer could land her in legal hot water.
According to a source at Israel's Population, Immigration and Border Authority (PIBA), Fostanes is in Israel on a special caregiver visa given to foreign workers employed in this field. Such a visa bars her from earning money as anything other than caregiver.
"Under no circumstance can Rose be paid to be a singer in Israel," said the source. "There's no problem if she performs at weddings for free, but she cannot receive any payment."
The law states that, "A foreign worker cannot work in any job that is not permitted on their work visa, not even on weekends or in their free time." The law also states that any attempt to do so, "will be considered a violation of her visa."
Fostanes beat out Eden Ben Zaken in the last round of the competition, which is hosted by Israeli supermodel Bar Refaeli. The teenager from Kiryat Shmona only kind words for her. "You deserve this," Ben Zaken told the elated victor.
Rose Fostanes wins X-Factor (כתב: רן בוקר, צילום: אסי כהן, עידו ארז, עריכה: דפי מקל)
The judges also showered Fostanes with praise. Singer Shiri Maimon, the judge who mentored Fostanes throughout the competition, said that she deserved to win.
"Rose didn't sing a single word in Hebrew, yet the entire nation voted for her because she is simply a tremendous singer. She is a tremendous personality; she came here to do what no one else is willing to do. She has contributed to the country, she deserved to win."
"Her victory is love thy neighbor," said Rami Fortis, the rock icon who also sat on the judge's panel.
Fostanes has emerged as the newest star of Israeli reality television, putting a human face on the thousands of foreign workers who toil away in menial, back-breaking jobs in Israel.
Viewers of the country's myriad of reality shows have grown accustomed to successful candidates from various backgrounds, including black-clad ultra-Orthodox Jews, Ethiopian immigrants and a German convert to Judaism who became a celebrity chef. But they've never seen anyone like Rose Fostanes before.
She spends her days caring and cleaning for an ailing woman in her 50s. To save money, Fostanes lives with seven others in a crowded apartment in south Tel Aviv, a downtrodden area inhabited by foreign laborers.
Until recently, Fostanes was among the thousands of Filipinos who work in similar positions in Israel. The site of Filipino workers wheeling elderly Israelis in public places is so common that the word "Filipini" has become synonymous with "caregiver."